A perfect wall-mounted shower seat offers the best all-around solution in terms of ease of use and economy of space.
In this article, we will discuss the benefits of choosing this type of shower seat and how you some of the top models. After reading this article, you'll find the best option for you.
Before we proceed with the review, let us first familiarize ourselves with the features we need to look for when buying a wall-mounted shower seat.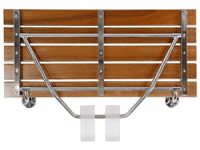 Best wall-mounted shower bench
Clevr 36″ ADA Compliant Foldable Seat
This is a great choice for anyone that is looking for a sturdy wall-mounted seat for a shower that's comfortable and won't make a hole in your budget.
Main Things to Look for When Buying a Wall-Mounted Shower Seat
There are certain features and properties that a perfect shower seat should have. In this section, we will discuss them in full detail.
Size
Just like any other shower, wall-mounted shower seats come in various dimensions. The main criteria for finding the right size are comfortability. It should be the right size to accommodate the weight of the person sitting on it.
For larger individuals, if there is enough space, they should opt for a shower bench. The extra space can be used as storage for shampoos and shower gels needed while taking a shower.
If space is an issue, a bigger shower space is not appropriate. It will take up too much space and, in some cases, will not even fit the shower. A seat within the range of 15 and 24 inches will be an ideal size.
Weight Capacity
When selecting a shower seat, you should take note of its weight capacity. Some seats cannot accommodate a lot of weight.
For the safety of the user, this is essential because you don't want to hurt yourself while taking a shower if it cannot support your weight.
The maximum capacity of the shower seat should be at least 20 pounds higher than the actual weight of the user. Shower seats with additional support or legs are sturdier and can take on more pressure.
Simple Maintenance
Because shower seats are used mostly by the disabled and seniors, they have limited movement. Choose a shower seat that is easy to clean and maintain.
You should also select a material that is waterproof to prevent molds and mildew from growing.
Best Wall-Mounted Folding Shower Seat Reviews
Price
Model

1. Clevr 36" ADA Compliant Bench

Weight capacity: 400 lbs
Material: Teak + Chrome
Size (width): 36"

2. Moen DN7110 Teak Chair

Weight capacity: 400 lbs
Material: Teak + aluminum
Size (width): 20"

3. Clevr 20" Seat For The Shower

Weight capacity: 400lbs
Material: Teak + metal
Size (width): 20"

4. Best Choice Folding Shower Bench

Weight capacity: 300lbs
Material: Hardwood + stainless steel
Size (width): 15"

5. Kenley Shower Wall Seat

Weight capacity: 330 lbs
Material: Teak wood + stainless steel
Size (width):

6. Nova Bathroom Folding Seat With Legs

Weight capacity: 250 lbs
Material: Plastic + steel
Size (width): 16"

7. Elite Care Seat with Drop Down Legs

Weight capacity: 350 lbs
Material: Plastic + steel
Size (width): 19"

8. Autumn Lane Luxury Chair

Weight capacity: 353 lbs
Material: Duroplast + chrome
Size (width): 13.6"

9. Teakworks4U Teak Shower Bench

Weight capacity: 300 lbs
Material: Teak + Stainless steel
Size (width): 30"

10. CSI Bathware Shower Seat For Elderly

Weight capacity: 250 lbs
Material: Vinyl + stainless steel
Size (width): 22"
We have tested different wall-mounted shower seats based on their practicality, weight capacity, design, and safety.
These seats will bring the showering experience to the next level. Here is the list of products we think are the best wall-mounted seats for the shower.
1. Clevr 36″ ADA Compliant Wall Mounted Shower Bench
You don't have to sacrifice the beautiful décor of your bathroom for the comfort and safety of an unsightly shower seat. In this beautiful teak shower bench by Clevr, you can have safety and comfort while complementing the look of your bathroom.
Safety is the number one priority in designing this shower seat because most of the people that use them have a disability and cannot stand in the shower for too long.
This wall-mounted shower bench is designed to provide adequate support. Plus, when the seat is not in use, it folds compactly to allow you to have enough shower space.
It is made from hardwood with an excellent finish and stainless-steel support that will not corrode or rust.
Teak is a popular type of wood that can survive the humid environment of the bathroom. It is resistant to mold and mildew and has a natural color finish.
The seat can support up to 400 pounds and is simple to install. The shower seat can fit most bathroom bathtubs too because it is easily adjustable.
It can complement any bathroom décor
Provides adequate safety
Durable and long-lasting
Easy to fold for more space
Can not fit the standard 16″ studs

2. Moen DN7110 Teak Wall Mounted Shower Chair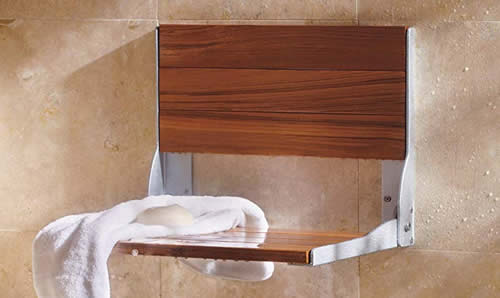 This folding shower seat from Moen combines style and comfort. The natural color of the teak wood renders an earthy tone that can complement both traditional and modern showers.
Aside from its aesthetics, it can safely support seniors and handicapped up to 400 pounds with the sturdy aluminum framing system.
It is very safe and meets ADA specifications, a fete that is not common in most wall-mounted shower chairs. One of its highlights is its elegant design.
Because teak is hardwood and is recommended for a humid environment, the seat is durable and protected from molds or mildew. The aluminum frame is also rust-resistant.
The foldable design lets the seat fold up when it is not in use and takes up small space. This makes it an ideal solution for people who have small showers but wants a permanent seating solution.
The manufacturer offers a limited lifetime warranty on finish defects. This means that you have an excellent product on hand.

Durable and strong
Easy to install
Teak wood is water-resistant
The foldable design provides adequate space
Because it is made with Teak wood, you have to stain it with teak oil regularly

3. Clevr 20″ Wall Mounted Seat For The Shower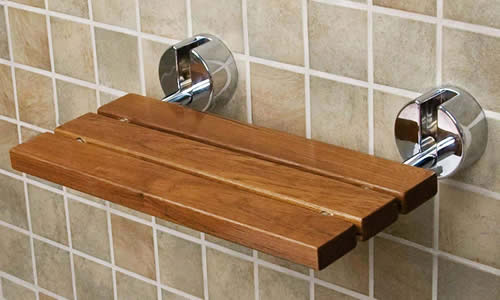 This other version of the wall-mounted seat for the shower from Clevr has the same features as the other seat listed above. It provides safety and comfort without sacrificing the beauty of your bathroom.
The bench is made with high-quality teak, a wood known for its water-resistant properties. It also has a natural finish that gives a luxurious touch to the bathroom.
Shower seats are designed to support elderly and disabled people while showering. This shower seat is made with safety as a significant concern.
The frames are durable and sturdy to support an individual of up to 400 pounds. The materials used in this shower seat are also corrosion-resistant.
With the additional clear coating on the teak wood, you are assured that it has protection against the humidity inside the bathroom.
The bench is also designed for easy installation with a fully adjustable width to accommodate any bathtub width. You can fold it away when not in use to maximize the shower space.

Durable and very stable
Can support a maximum of 400 pounds
Can last longer and is covered with a warranty
Nice and elegant look
Teak wood needs proper maintenance to sustain the finish

4. Best Choice Products Wall Mounted Folding Shower Bench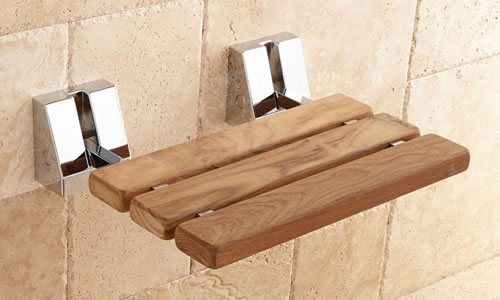 This stylish wall-mounted folding shower bench is what you need precisely inside your shower for convenience. It is perfect for seniors and disabled individuals who need support while showering.
The shower bench has a lot of purposes too aside from providing proper seating. You can place your shampoo and shower gel or serve as the perfect chair for shaving legs.
It is made from varnished hardwood that is properly sealed to prevent moisture from getting into the pores of the wood.
The bathroom has a very humid environment, and if not protected the wood can rot quickly.
The metal steel frames are in chrome finish, and it is resistant to rust and corrosion too.
The seat needs a professional to install it. It folds up when you don't need them giving you space in the shower.
The design fits seamlessly with any bathroom aesthetic with its clean and straightforward look. It can hold any person up to 300 pounds in weight.

Strongly built and sturdy
Space-saving and stylish
Very versatile with multiple uses
Made from durable materials
It needs professional installation

5. Kenley Folding Shower Wall Seat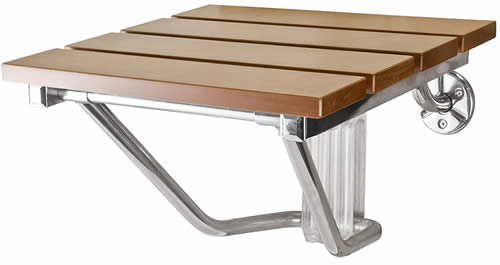 Shower seats are not only for the elderly and disabled persons, but you can also use them for sitting while washing, brushing your teeth, or putting on your makeup.
This foldable, shower wall seat from Kenley is designed to fold into the wall when not in use, making it a practical and discreet shower accessory.
It is made of solid teak, which has a beautiful wood finish and natural color that will complement any design for your bathroom. The seat is of a convenient size and can support a maximum weight of 330 pounds.
The beauty of having a shower seat in moisture-resistant wood and stainless steel is it is durable and easy to clean too. It comes with the necessary hardware to attach it to the wall and once secured; you don't have to worry about safety.
This seat is versatile, aside from using it inside the bathroom, you can place it anywhere in the house like in the hall, on the landing, or in outdoor locations.

Foldable and discreet
Durable as it is made with strong steel and teak wood
Solid and safe
Practical design
Needs professional help during installation

6. Nova Bathroom Wall Mounted Folding Shower Seat With Legs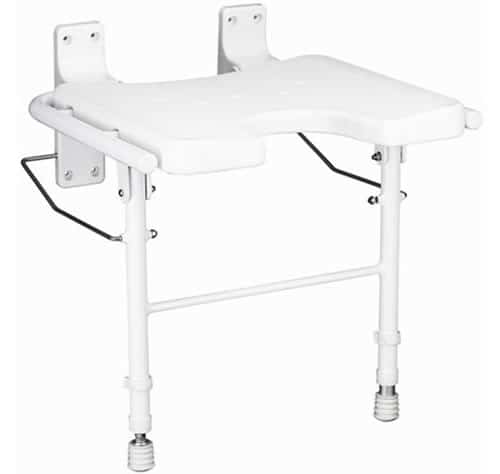 When you buy this Nova wall-mounted folding shower seat with legs, you will not only have a high-quality product but also other benefits.
First, it provides adequate support while showering for those who cannot stand in the shower for a long time, for the elderly or the disabled.
Since this shower seat is wall mounted and foldable, it saves space when not in use. It is made from high-quality plastic with an aluminum frame.
This means that it is not only durable but water and corrosion-resistant. It can support up to 250 pounds. It is adjustable and has the standard size fit for the average-sized individual.
Mounting the shower seat to the wall can be challenging, so we recommend that you get a professional to do them for you.

Water and corrosion resistant
Durable and strong
It is foldable to save on space
It provides stable seating because if additional legs
You need a professional to install them

7. Elite Care Wall Mounted Folding Shower Seat with Drop Down Legs
This wall-mounted folding shower seat with drop-down legs has a unique feature, and that is the contoured seat. The seat provides additional comfort while showering. It also has raised sides with gripping handles for extra safety and security.
The seat is made from high-grade plastic with a sturdy polymer cover and drop-down legs.
It is corrosion-free and features drainage holes to make sure that the water will drain fast. The adjustable legs offer the additional stability that you need. It can support a maximum weight of 250 pounds.
You will feel supported when taking a shower with the sturdy wall-mounted shower seat that has padded arms because it is lightweight but sturdy. It has a detachable backrest and seat for easy cleaning.

Lightweight but sturdy
Made from a tough polymer coating
The seat and backrest are detachable for easy cleaning
Space Saver
The hardware for installation is not included

8. Autumn Lane Luxury Shower Chair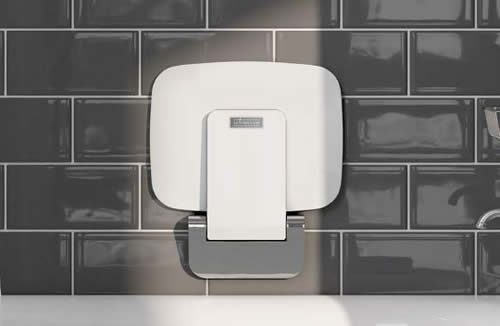 This bath is different from the rest of the shower seats reviewed here because of its design. It is built from plastic reinforced with fiber and hinges.
The seat can support up to 353 pounds of weight. The sturdy build assures that whoever sits on the shower seat can relax without compromising it.
It is lightweight but secure, resilient, and reliable. Aside from this characteristic, it is also very stylish and convenient.
Compared to other bath seats, the Autumn Lane Luxury Bath Seat is stylish but straightforward in that it can suit any bathroom décor and does not overwhelm.
This bath seat is ergonomically designed to fit the curves of the person with rounded corners and clean edges.
The smooth finish would prevent injuries if the person bumped accidentally.

Strong and sturdy built
Safe and secure
Designed ergonomically
Can accommodate any body size
The seat can be small for some

9. Teakworks4U Wall Mounted Folding Teak Shower Bench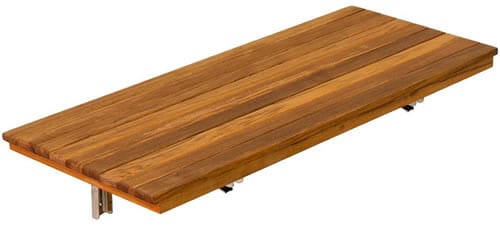 Another folding teak shower bench; is a space-saving wall mount that is designed to fold down when not in use.
The sturdy teak wood is a known material for shower seat because they are not only durable but also has a natural finish. It's beautiful and fits any bathroom décor.
When the shower bench is not in use, you fold it up. You need to lift the bench and lock it firmly in place.
The procedure is reversed when you want to lower the bench. This simple mechanism allows you to have ample space in the shower.
The bench is made from
Burmese teak
and stainless-steel brackets that provide adequate support to the bench and weigh up to 300 pounds.
Creates a luxurious aesthetics in the bathroom
Sturdy and durable
Ready to install
Space-saving
You need to treat the wood regularly with teak oil

10. CSI Bathware Wall Mounted Folding Shower Seat For Elderly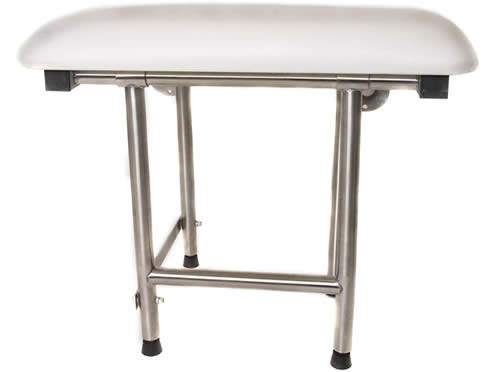 This sturdy and comfortable rectangular bath seat can support a person over 250 pounds. When it is installed correctly, you can raise the seat up and down easily.
The CSI Bathware Wall-Mounted Rectangular Padded Seat is ADA-compliant, which means it can accommodate the elderly and physically challenged individuals.
The seat is made with waterproof and vinyl-padded plastic and offers superior comfort, and it is properly sealed to keep the mildew and moisture out. It is also warm to the touch and effortless to clean.
When the shower seat is not in use, it can be folded flat to save space. Another unique feature is the four stainless steel legs and adjustable rubber feet to provide stability and securely fit them in the shower.

Comfortable and sturdy
ADA-compliant for the elderly and physically challenged
Sealed to keep the moisture out
Folds flat when not in use
Looks slightly medical in a beautifully decorated bathroom

Wall Mounted Seat for Shower FAQ
Q: Can they also be used in the bathtub?
A: Not all shower benches can fit perfectly in the bathtub. It will be better to purchase essential bath stools instead.
Q: Are wall-mounted seats hard to install?
A: Wall-mounted shower seats are not easy to install, but you have to do it right; otherwise, they can be compromised. We suggest that you hire a professional installer.
Q: Which material is better?
A: For the hardware, it should be made of metal like aluminum and stainless steel because it will not corrode. The seat, it should be made from teak wood or plastic. Both materials are great. Teak wood has better aesthetics and is comfortable to sit on, but it needs more maintenance than plastic. Plastic is easy to clean, less expensive, but uncomfortable to sit on.
Q: Does it need to be installed on a concrete wall?
A: No, it does not. You can install it on drywall, but you need to reinforce the wall with studs. If possible, try to plan for support when building the wall. You can fasten the seat with toggle bolts.
 Q: Do teak shower seats need a lot more maintenance than plastic ones?
A: It does require maintenance, but not much. Aside from cleaning (read our extended teak cleaning guide), you should also apply teak oil regularly.
Conclusion
If you want to get the best wall-mounted shower seat not only for medical use but as a shower room accessory, then the products above can do the job well.
All the products reviewed here are durable and sturdy. The price can differ based on the material they are from.
For further questions, comments, or more information, comment down below, and we'll get back to you.