Are you on the lookout for a definitive guide on how to clean the teak shower bench? If that is the case, then you are in the right place. I have prepared a definitive and detailed step-by-step guide to show you the best way to clean the teak wood shower bench properly.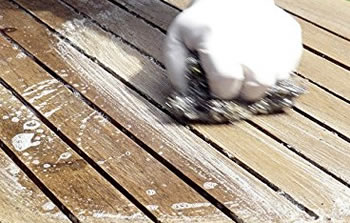 Teak shower benches usually don't require regular maintenance; however, they need occasional cleaning and maintenance due to various factors such as accumulation of soap residue and dirt, the growth of mold, etc.
This guide will help you to make sure that you know how to clean a teak shower bench properly.
Best Way To Clean Teak Shower Bench Correctly
Cleaning a teak shower bench is a relatively easy process; however, it requires following a set of steps correctly. As such below is a detailed step-by-step guide on how to clean a teak wood shower bench.
Choose a teak cleaner: There are a wide variety of teak cleaners available and can be bought online or from the supermarket. However, they can also be made at home by mixing half a cup of water, half a cup of vinegar, and two tablespoons of dish or hand soap.
The next step is to apply the teak cleaner on the shower bench and allowing it to sit there for a few minutes.
After this get a scrubber with a soft bristle and use it to brush the bench thoroughly, emphasizing the corners and hard-to-reach places.
After the scrubbing is done, rinse the bench with clean water and repeat the above steps if necessary.
The final step is to let the teak bench dry thoroughly and then applying teak oil for nourishment and added protection.
4 Mistakes To Avoid When Cleaning Teak Shower Chairs And Benches
Some tips and tricks are surrounding the maintenance of your teak shower bench. This will ensure that your teak shower bench stays in the best condition at all times.
Say NO to power washers. While cleaning a teak shower bench, it is highly advisable not to use power washers. This is because they generally operate at high pressures and can damage the wood, and can cause water to seep into the cracks causing further damage.
Regular Rinsing. An easy way to keep your teak shower bench in good condition is to rinse it daily after using it. This can be done by just using warm water to rinse it, or by using a soft scrubber to scrub out any soap residues or stains.
Apply Teak Oil. Applying Teak Oil to the teak shower bench after rinsing and drying it is highly recommended. Rubbing teak oil on the teak shower bench adds a layer of protection, and also gives the teak its shine and color back.
Avoid using steel wool, scouring pads, or rough substances while cleaning. It is best to avoid using any substances materials such as steel wool or scouring pads, as they will scratch the delicate finishing. If necessary, it is best to use mild sandpaper to scrub off the worn-out layer.
Frequently Asked Questions
Can you clean teak with vinegar?
Yes, you can. Vinegar is great for cleaning teak. Just make sure you mix it with water (1:1 ratio), add some dish soap and you have a homemade teak cleaner.
Can you clean teak with bleach?
You can, but use it with caution. It's an effective way to remove mold from the teak. Mix it with water (1:4 ratio) and make sure you rinse it well. It will work just as well if you use laundry detergent with bleach.
Can you clean teak with oxalic acid?
Oxalic acid is bleach, so the answer to this question is the same as the one above.
Can you clean teak with TSP (trisodium phosphate)?
TSP can be very aggressive but can be used for heavy-duty teak wood cleaning. Mix it with warm water and use a bristle brush to scrub it.
Can you pressure wash the teak shower seat?
You can, but it's not really recommended. It's easy to damage the finish and make the surface bumpy and pitted. If you decide to use it anyway, I highly suggest you use one that has low PSI or turn down the volume as much as you can.
Use the widest spray nozzle you can and keep it at least 12″ or more above the surface. Make nice, even strokes, passing over the bench completely each time.
Conclusion
As is seen from above the process of cleaning and maintaining a teak shower bench is not a complex task. It involves performing only a couple of necessary steps and measures, which require minimal resources and effort.
These small steps will ensure that your teak shower bench remains robust, functional and beautiful for an extended period.
Lastly, if you have any queries, thoughts, or need additional information regarding on how to clean teak shower bench, feel free to drop them down in the comments below.