Teak has long been used for outdoor furnishings for its durability and lovely buttery yellow color.
It has a high content of naturally occurring oils and rubber that serves as a natural waterproofing cover, protecting it against rot, water, and insects.
But as perfect teak is for our outdoor areas or shower stool, you should be ready to clean it regularly. And to extend its lifespan, you need to apply the teak oil periodically. By using the best teak oil, you are protecting the furniture from damage.
We have tested many oils for teak wood available in the market to see which one works better on shower stools and we have come up with this list to help all teak furniture owners.
You will also learn how to apply it properly and how to select the best teak oil for your furniture.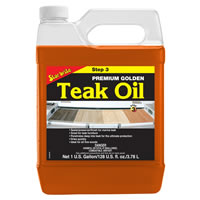 Best teak oil choice by editor
Star Brite Premium Golden Teak Oil
Star Brite oil is a premium product that you can buy individually or as part of a teak care kit.
Kit contains everything you need to clean, restore, and protect any teak furniture, decking, and marine wood.
[toc]
Main Teak Oil Uses
Rare and expensive wood-like teak is used in luxurious outdoor and indoor furniture, cruising vessels above the water line, decks, and terraces.
Their surfaces look amazing, but sun, moisture, and time can tarnish their appearance. One of the most useful products that can resist these factors is teak oil.
Here are some of the most common teak oil uses:
Bathroom Furniture: Most people use it to treat their teak shower and bath benches, chairs, shower mats, and even shower floors. These pieces of indoor furniture need frequent maintenance, so you need to apply them regularly to prevent them from deteriorating.
Outdoor Furniture: Because your outdoor furniture is exposed to the elements, teak oil can be your first line of defense. It makes outdoor furniture resistant to mold and water. You can use it on your lounge chairs, tables, and other outdoor furniture. You can mix it with little elbow grease to keep the vibrant color of teak furniture that you love.
Decking: Many porches and pool decking are made from teak too, and you will need it to protect them from the effects of different kinds of weather and to keep their rich color.
Marine: Because teak is a durable wood, it is used in building boats and ships. However, the sun, saltwater, and the air can cause damage if they are not oiled from time to time. It serves as protection to prolong the boat's life.
Best Teak Oil on the Market
Price
Model

1. Star Brite Premium Teak Care Kit

Complete teak care kit
Contains oil, cleaner, and brightener
32 oz. bottles

2. Aqua Teak Wood Oil

Dries quickly
Deep penetration
Gentle on the environment

3. Watco Oil A67141

Deep penetration
Good protection
Warm color

4. Owatrol Deks Olje Oil Finish

Use on horizontal or vertical surfaces
Deep penetration
For hard and soft woods

5. Behlen Teak Furniture Oil

For use on raw, stained, newly stripped or previously oiled wood surfaces
For use on multiple woods
I have tried a lot of different oils over the years, and my experience leads me to create this list of the best teak oil.
I have ranked them based on how well they covered the wood, how long it can last before the next reapplication, and the prices, among others.
1. Star Brite Premium Teak Care Kit: Best Teak Oil Included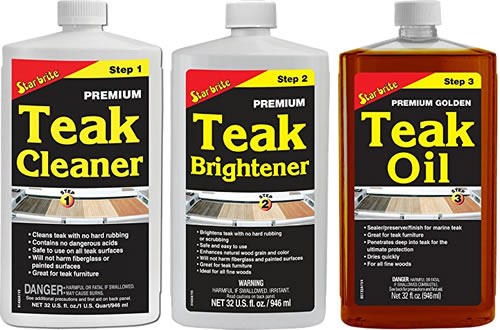 This has been a favorite of mine, and I have been using them for many years now. If you are on the lookout for the best teak oil, you should buy this one.
The Star Brite Premium Teak Care Kit comes with everything you need when it comes to cleaning, restoring, and protecting teak.
This kit contains the
Premium Teak Cleaner
, Premium Golden Teak Oil, and the Premium Teak Brightener.
When you have a piece of furniture that is grey-weathered, all you need is a Star Brite Premium Teak Care Kit, and you can bring it shiny and new.
If you follow the directions carefully, clean the wood, let it soak in the brightener, and apply a coating of oil, you will see how amazing the results it is easy to use, and the oil is quick-drying too.

Easy to apply
Comes with a brightener and a cleaner
Quick Drying
Seals off the moisture and water
The oil can get sucked into the wood; you'll need more applications

2. Aqua Teak Wood Oil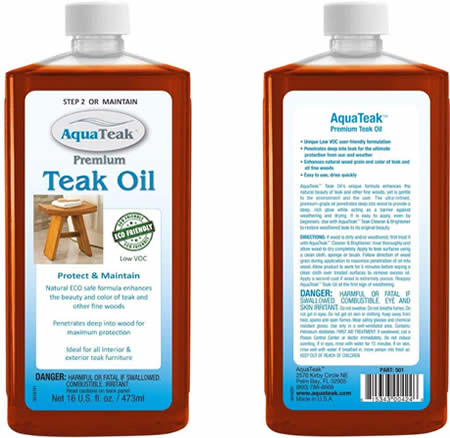 Another one on my list is this Teak Wood Oil from Aqua Teak. This company is known for producing teak furniture mainly teak bathroom pieces, so it's no wonder that they make teak wood oil too.
This is a great oil because it helps in enhancing the natural grain of the teak wood, and it brings out its rich color.
You can use this oil to restore a piece of furniture with a cleaner, and when applied regularly, it can protect the teak furniture.
What's good about this teak wood oil is it penetrates deep into the wood, and it dries fast. Although this oil is made for indoor furniture, you can also use them for outdoor fixtures.
This teak wood oil is reasonably priced too. One bottle contains 16 ounces and remembers to apply this on your furniture in a well-ventilated area.

Made by a renowned teak furniture maker
Quick drying
Easy to apply
Affordable price
Can be used for both outdoor and indoor furniture
Has a strong smell, it should be applied in a ventilated area

3. Watco Oil A67141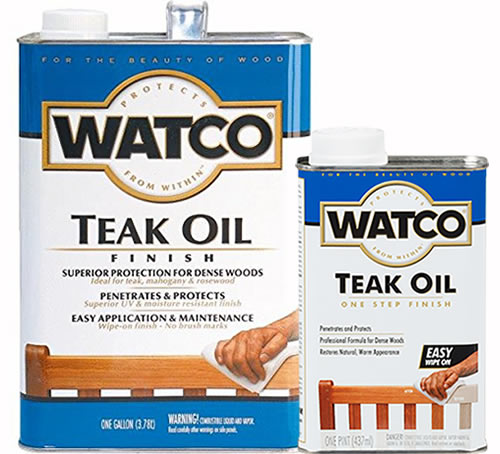 This is a versatile oil that is not only made for teak but other dense wood like mahogany and rosewood. It also works well with both indoor and outdoor furniture.
One can of Watco Teak Oil contains 32 ounces and covers about 170 square feet of wood, and it takes about 8 hours to dry.
What makes this one exceptional is it has combined moisture resistance and UV protection.
When you apply this oil, it produces a rich and warm finish and brings the best out of your teak furniture. You can apply it using a cloth and wipe off the excess oil.
Although it may not be the best for its affordable price, it has a lot to offer.

Versatile as it can be used both for indoor and outdoor teak furniture
With a rich and warm finish
With moisture resistance and UV protection
Affordable price
Easy to apply
It is highly flammable
Leaves a relatively hard finish for indoor teak furniture

4. Owatrol Deks Olje Teak Oil Finish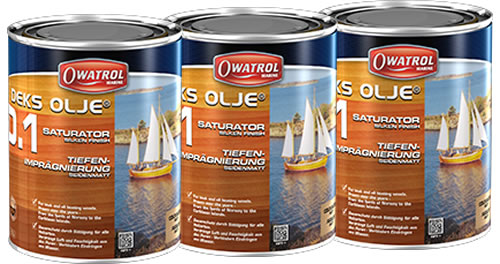 This wood oil replaces the lost oils in the wood, and it drives out any air or moisture while filling the pores with oils. As a result, it provides long-lasting protection to the exterior and interior of the timber.
Another useful feature of this finish is it does not form a film on the surface of the wood which would crack or peel. Instead, it gives a clear matte finish and enhances the beauty of the wood with no sanding or stripping.
Due to its oily and dense characteristics, it is difficult for the elements to impregnate wood. This is the reason why Deks olje is favored for use in marine environments.
It also protects the wood against humidity and damage from UV rays.
Aside from marine applications, it can also be used for decorative finishes and single coatings.

Easy to maintain
No stripping or sanding needed
Penetrates the wood completely
Replaces the natural oils in the wood
Ideal for exterior and interior use
The treated surface easily scratches
Has a dull finish

5. Behlen Teak Furniture Oil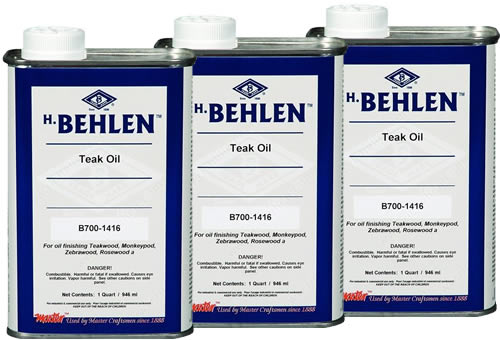 Behlem oil is recommended as an oil finish for teak, rosewood, and other oily types of wood.
It penetrates the wood, and when dry it produces a hard finish compared to linseed oil and different oil finishes which look tacky when they are exposed to heat.
This teak furniture oil penetrates the wood and has a hard finish and keeps it that way. What's good about it is you can use it to treat stained, newly stripped, raw, and even previously oiled wood.
To uniformly apply on the entire surface, you can use a stiff brush, rag, or mesh pad. It takes 5-10 minutes to dry and reapply.
You can wipe it and buff it a little after 30 minutes and do the final rebuffing after 24 hours. This is how easy it is to apply.

Easy to apply
Have a hard finish
Creates a uniform sheen
Can be reapplied on any kind of wood – raw, stripped, or stained
It takes a little bit longer to dry (still decent drying time)

What are Teak Oil Ingredients?
Contrary to what you believe, teak oil does not come from teak wood. Instead, it is a special finish oil that may contain rosewood, linseed, soya, or Tung oil as its ingredients.
Some may even contain additional ingredients like UV inhibitors or mildew inhibitors.
Teak oil ingredients are combined to produce oil that penetrates the inside of the wood. It should not peel or crack, and when it is scratched, you can eliminate it by reapplying oil to the area.
It's used to protect and maintain teak furniture. To keep many dense kinds of wood like teak, rosewood or mahogany appear brand-new, teak wood should be applied once a year or twice if the furniture is exposed to the elements.
A Step-by-Step Guide on How to Apply Teak Oil
Furniture made from teak is stunning, but you need to maintain it properly to keep its look and condition.
To make the most out of your teak furniture, you need to apply it at least once a year depending on how exposed it is to the elements.
Here are the best practices on how to apply teak oil. You need to follow the steps to make your teak wood looks appealing all the time.
Getting Everything Ready
Before you start applying it, you must make sure that everything you need to complete the process is ready. Here are the things that will come in handy when you apply teak oil to your furniture.
You need a piece of paper or cloth under the furniture to prevent drips on your floor. You can clean the area easily once you are done when you have them under the furniture.
Protective gloves are essential when you are applying them because they can irritate your skin
Make sure that you are not near heat sources or flames.
At least two clean rags to apply the teak oil onto the furniture.
1. Clean it First
If you are cleaning teak furniture regularly, you only need to dust it thoroughly. Otherwise, you need to wash it with soap and water to remove the grime buildup.
There are teak furniture cleaners available, however, it's also easy to make your own.
You need to dry the furniture properly if you wash them to remove air and moisture before applying teak oil.
Otherwise, the moisture inside the wood is trapped, which will alter its color and lifespan.
2. Select the Oil
There are many teak oil finish products available with different compositions. Look for ingredients like Tung oil because it is more effective than linseed oil.
Read the labels carefully before selecting them as some can come with artificial colors or additional sealant as ingredients.
3. Use a Paintbrush or Clean Rug to Apply Oil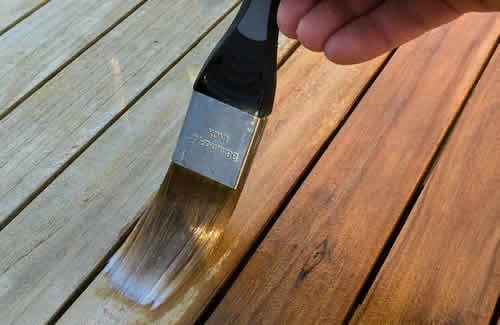 You need to cover the teak furniture with even strokes using a paintbrush or clean rug. You can continue applying teak oil until the furniture becomes matte in appearance and cannot absorb the oil anymore.
4. Wipe it Down with a Cloth
Allow about fifteen minutes for the wood to absorb the oil. When you notice surface oil with tacky consistency, wipe the furniture using a clean rag and carefully remove the excess oil. Use the second rag to buff its surface until the wood is thoroughly dried.
5. Wipe Up the Drips and Spills
When applying it, it is inevitable to have drips and spills. This can stain other furniture or the floors if you do not remove them immediately. You can remove them using a piece of clean cloth moist with mineral oil.
6. Reapply regularly
The color of teak furniture may fade in time if you do not reapply teak oil every few weeks or months. You can apply an additional coat to deepen its color or apply a coat when the furniture is dry to the touch.
What is Teak Oil Drying Time?
There is no particular time on how long it will take for applied oil on a surface to dry.
It depends on many factors, including the temperature, the brand, and how thick you have applied them.
Some of them can dry in a few minutes while others can take hours, mainly if you have applied a thick layer on the wood.
You need to be patient until it is completely dry before applying a second layer because moisture can be trapped inside.
You also need to make sure that the cleaned teak is completely dry for the oil to saturate the pores of the wood thoroughly.
Teak Oil Before and After
Applying a teak oil finish to your furniture can have beautiful results. It can restore the rich and warm golden color that teak furniture is known for.
The difference between before and after can be huge or small. It all depends on the oil you used and the original color of the wood.
Please be aware that results might vary. Here are some of the teak oil before and after pictures.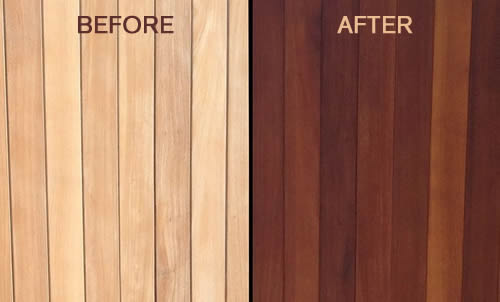 Teak Oil vs Tung Oil
There is some debate on teak oil vs Tung oil and which of the two makes the furniture look best.
Both are wood treatment products that prevent the furniture from deteriorating, but they have more significant differences too.
Teak oil is a penetrative treatment that is intended to protect the wood with natural substances.
It does not come from teak wood and is instead a combination of different oils, varnish, and mineral spirits with a small amount of Tung oil.
Its primary purpose is to provide anesthetic to the teak furniture. Aside from protection, it lets the natural rich color of the teak come out.
Tung oil
, on the other hand, is extracted from the Tung tree, which is found in China.
It has been used for hundreds of years as a waterproof coating in the hull of wooden ships.
It is known as the best natural wood finishing because it can provide adequate protection and great color to the furniture.
Once dried, the oil becomes transparent, making it completely flexible and waterproof.
Which is better teak or tung oil? Well, it depends on what you want your wood products to look like.
Tung oil offers adequate protection, but it has a more complicated application process. Teak Oil is easy and quick but does not look as good as Tung oil.
Check out this article to see in more detail who is the winner in the teak oil vs tung oil battle.
Teak Oil vs Danish Oil
They are both used as finishes for furniture. They both protect and let the color of old and new furniture come out.
Another difference is in their drying time. A medium coat of oil will dry between 12 to 24 hours while Danish oil dries between 12 and 18 hours.
You can clean up any spills on furniture treated with teak or Danish oil with a clean cotton cloth while they are still wet.
Where to Buy Teak Oil?
Most of the well-stocked and bigger local hardware stores carry it; however, they are usually stocked with a brand or two.
They don't often carry a big selection. This is the reason why I prefer to buy them online. There are many benefits to buying online.
Aside from many brands to choose from, you can read reviews and helpful tips from people who used the product.
Some brands are also cheaper online than buying from hardware stores.
In Amazon
, for example, they have all the brands of teak mentioned here, and it has lower shipping costs than the cost of driving to the hardware store.
FAQ
Q: Will teak oil darken wood?
A: Yes, it will. The more layers you apply, the darker teak will get.
Q: What will remove teak oil?
A: It's not easy to remove because it is durable. However, it can be done using a wood finish stripper. After applying the stripper, let it dry and use a paint scraper to finish them off. Sand down the wood with two types of sandpaper grits to remove them all.
Q: What to apply teak oil with?
A: You can apply it with a fine paintbrush, sponge brush, or rag. The rag needs to be lint-free (the best is an old t-shirt)
Q: Can teak oil spontaneously combust?
A: Just like any other oil finish, this one can spontaneously combust too. However, you don't need to worry that any furniture that has a teak finish will catch on fire spontaneously. The only danger is oily rags, so store them safely after you stop using them.
Q: Can it be used on chopping boards
A: No, they are not safe to use on cutting boards. For cutting boards use pure mineral oils only.
Q: Can it go bad?
A: It won't get worse for a very long time as long as the container is tightly closed.
Conclusion
I hope this review helped you choose the best teak oil for your indoor or outdoor furniture and help you with the information you need to maintain your teak furniture.
Teak wood can still look great even if they are old, but it will look even better if you can preserve its natural color. With the best teak oil applied adequately, you will extend the lifespan of your teak furniture.
If you have more questions or need more information about teak furniture, you can comment below or contact us.