In this article, we'll pay attention to the Golden care teak protector. Although I listed it as number 1 on my best teak sealer list, the teak protector is technically not a teak sealer.
It takes teak protection another step further. It provides better and longer protection than your average teak oil or sealer while being water-based, solvent-free, non-flammable, and safe.
In this review, I'll cover why this is still my #1 choice, what you can use it for, and how you can apply it correctly. You'll be able to read what are its pros and cons so you'll know what you can expect from this product.
[toc]
What is Golden care teak protector?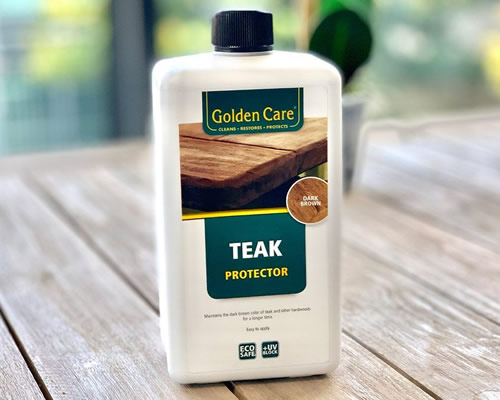 Golden care teak protector is a water-based formula for teak maintenance. It's specialized to protect the wood from the oxidization process and that way it helps the wood to save its warm gold color. Using this protector you'll prevent your teak to become gray and lifeless. Also, it will protect your teak surfaces from the sun and UV rays.
In a way, this product is different from other teak protectors. His first advantage over others is saving time. Other teak protectors, you need to use for an entire season and that can be exhausting.
On the other hand, a Golden protector as a non-organic product lasts longer. It's more than enough to apply it once a season. Using it you'll save a bunch of time and simultaneously bring out the natural color.
Another, maybe even more important, advantage is this product is safe for storage and use. The majority of teak protectors are flammable and dangerous for the environment. That's not the case with a golden protector. The product is completely environment-friendly and not flammable.
A big difference is noticeable between varnishes and golden protectors. After using varnishes on wood in any case water eventually penetrates the coating. A consequence of that process is the peeling and cracking of the coating.
After that coatings must be sanded for removal. That demands a lot of time and patience. Also, with varnishes wood never looks as natural as with a teak protector which just emphasizes its natural beauty.
Golden care teak protector review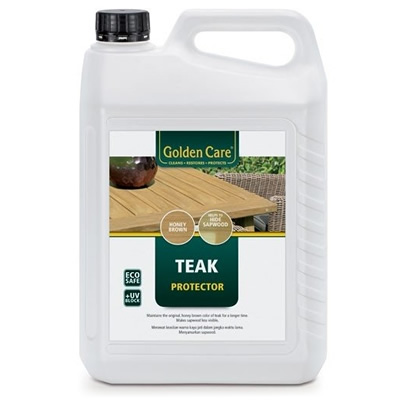 In this section, we'll take a look at a Golden care teak protector review. It will help you to make up your mind regarding this product.
In case you want to renew your teak furniture Golden protector could be the right choice for you. The product comes in a 1-liter bottle and you can buy it for a reasonable price. With its honey-brown color, your teak furniture will relive its natural beauty.
It's completely irrelevant how old is your furniture, this protector can save renew even 'lost cases'.
Teak wood has enough natural oil and with a golden protector, even rough and weathered wood will be recovered and protected from rot. Using it you'll save a bunch of time since you can use furniture the same day after applying.
A big advantage of this product is its quick drying process. You don't have to spend a lot of time maintaining your wood surfaces as you would do with varnishes and other protectors.
Soon after application, your furniture will be dry and protected from all weather conditions. You can even leave it outside in the snow and rain.
Pros and cons
Like every other product, this one has positive features and the other side of the coin, as well. Below are listed pros and cons that can help you to have a better picture of the product.
The product is water-based, solvent-free, non-flammable, and safe
Easy to apply without toxic fumes
Lasts at least 4 times more than teak oil
Sure protect from UV rays
Gives wood a natural look
Although the product is eco-friendly it's recommended to use gloves while applying it
Some customer state that the product slightly changes the original color of the wood
Ingredients – say hello to a water-based teak protector
If you're seeking a safe product, Golden care teak protector is the right choice for you. Without any fear, you can keep it in the house, since the product is safer than most teak sealers.
Some of them can be dangerous to keep in your home because they are flammable.
Unlike most teak sealers and oils, Golden protector is water-based and without toxic fumes. That makes him non-flammable and safer for use and storage.
Chemical ingredients:
Water
Proprietary chemicals
Pigments
Preservatives
How to apply it?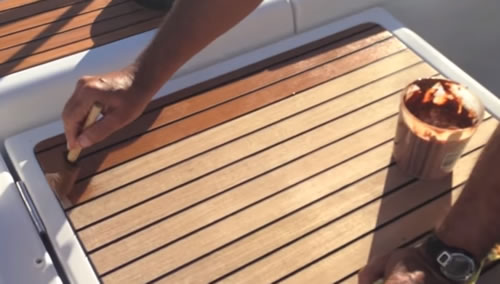 Applying this product is pretty simple, just pay attention to some general instructions.
For best results apply the product in temperatures above 10°C (50°F) on a sunny, low-humidity day. The teak should be completely dry and clean. In case you're sanding furniture before applying, try to sand all marks and uneven spots.
Pay special attention to unreachable places, the better you sand everything better results you'll get. Afterward, it's required to clean wood from wood chips, grain, and dust. Easily you can do it with a clean, dry towel.
Before applying, you need to shake the bottle well or stir it, to avoid turning your teak orange. Probably it's easiest to stir it with a mixing stick. When bubbles evaporate from the liquid you can start applying it to the surface.
Try to apply the product in short even moves in the direction of the wood grain. After you're finished applying leave it dry. Usually, it takes between 15 and 30 minutes to get dry.
Later, go through the entire surface, remove the excess liquid, and sand it carefully if there is an uneven surface. Prepare the surface for the second coat and repeat the process.
This is how you save money…
Here is a little trick. Since you need to clean the surface before applying the teak protector and you need sponges for that, be practical and buy 3 in 1 care kit.
In this kit, you can everything you need for teak cleaning and protection. Kit 3 in 1 contains a cleaner, protector, and application tools. You can save money buying kits instead of all of these products separately.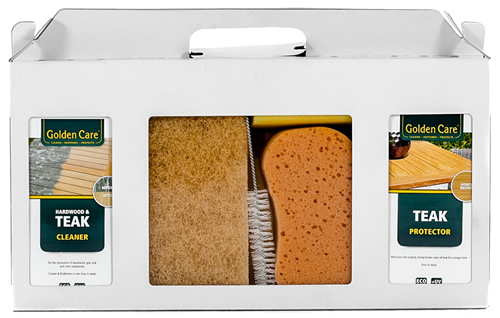 Other Golden care teak products
Except for 3 in 1 kit we already talked about, we can present more Golden care teak products.
The company has a wide pallet of different teak cleaning and protection products, which can be useful for teak wood maintenance.
Here we're going to list a few of the products that are worth checking.
You can take a look at them here:
Golden care teak protector uses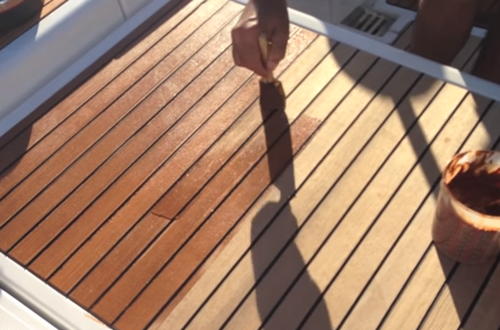 Even though his main purpose is to protect outdoor teak furniture Golden care's teak protector uses are numerous. Its first and most important use is to protect the wood from decay.
Besides outdoor furniture, you can use it also for marine teak (boat decks) and teak shower stools. There are types of teak sealers especially made for marine teak, but Golden teak care protectors will do the magic here as well.
Basically, it's possible to use it on every hardwood. Although, it's not recommended to use it on wood that is used for food preparation.
To make a long story short you can use it on all wood surfaces that are affected by water, mold, or the sun.
Frequently asked questions
Below are listed FAQs. Check them, maybe some questions that you're having in your mind are already answered.
Q: How much do I need it?
A: The best option is to apply two coats, but one thick coat will also do the thing. Approximately, the 1-liter bottle should be enough for a set of a big table and four chairs.
Q: Does Golden Teak Protector affect aluminum, brass, or sling parts of the furniture?
A: No, Golden Teak Protector does not affect aluminum, brass, or sling. However, it's better to prevent contact with Teak Protector if you want to keep these materials clean. In case these parts come in contact with the Protector they can be cleaned with water while the Protector is still wet.
Q: Does it penetrate the wood or does it leave a protective film on top?
A: To be precise, this product does a little bit of both. You can think about a product like its suntan crème for furniture. When you apply it some of it will penetrate the wood but you'll see the color on the surface since the protector has a pigment.
Q: Is it food safe?
A: Protector is not poisonous but it's not safe to ingest. Try not to use it on surfaces where you prepare food like cutting boards or kitchen counters. Also, don't treat with this product bowls and plates where you store food.
Q: Can I use it on other hardwoods?
A: Of course, you can use it on other hardwoods, although the product is designed for oily woods like teak.
Conclusion
After reading this article you know what to expect from Golden care teak protector. You're familiarized with its pros and cons.
Now you know how to apply this useful product to different surfaces and what benefits that will bring you.
If you still have some questions feel free to write us and we'll gladly answer you.