In our best teak sealer list, we already mentioned Semco teak sealer as one of the best products of this kind on market. The product was rated as the second-best choice. We gave a short review of this excellent product.
Through this article, we'll get to know better this special sealer. The product will be your best friend in case you need to protect teak furniture, teak boat decks, and teak wood in general.
After using this teak sealer your teak wood will be protected and its lifespan will be extended. Also, you'll be able to enjoy in beautiful color of the teak.
Together we'll check a detailed review of this magnificent product. We'll find out how effective it is and where is available. You'll be able to check the price of the product and also what are its pros and cons.
What is a Semco teak sealer?
The product is a water-based teak sealer that protects wood very successfully and without the side effect of creating a slippery surface. The liquid contains UV and moisture protection along with pigment and that way gives a wood-healthy honey-colored look.
Using this sealer you're going to avoid the need for deep cleaning since this product maintains a protective coating through winter and withstands staining and discoloring for up to a year. After you apply Semco sealer it will last a season and you won't have to endure boring deep cleaning.
You can use Semco to seal other woods as well if you want them to have a glossy finish. People use it on oak, cedar, and pine surfaces and furniture.
The product is available in three different packs: pint, quart, and gallon pack. One gallon tin is enough to cover 200 square feet of teak wood on the first coat. You're probably going to need the second layer, but that one shouldn't be as thick as the first one, so for the second layer 1-gallon tin is enough for 400 square feet of wood.
If you decide that Semco teak sealer is your choice you have three colors you can choose: Goldtone, Cleartone, and Natural.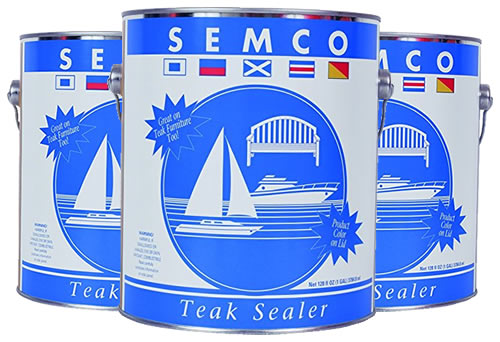 Semco teak sealer ingredients
Even though the product is water-based it still has few hazardous ingredients. There is no need to worry, they all are showing in a small percentage. We will list them out and write what is their percentage in the sealer.
Trimethyl benzene: Percent by weight: + or -1%
Dimethyl benzene: Percent by weight: + or -1%
Neodecanoic acid: Percent by weight: + or -1%
Solvent Naphtha: Percent by weight: + or -6%
Lecithins: Percent by weight: + or -1%
Paraffin waxes: Percent by weight: + or -1%
1, 2, 4 trimethyl benzene: Percent by weight: > 1%
Petroleum distillation: Percent by weight: + or -10%
Mineral spirits: Percent by weight: + or -75%
Proprietary ingredients: Percent by weight: + or -3%
How to apply it correctly?
For good protection, it's very important to apply teak sealer properly. It is pretty simple to use, just follow the instruction written below. Also, it's recommended to wear protective goggles and gloves while applying sealer.
First clean the surfaces you want to protect and let them dry well. That way you'll avoid moisture catching in. After cleaning and drying surfaces are ready for the sealer to be applied.
It's very important to stir the content of tin before and during applying process.
You can apply sealer using a plastic spray bottle, brush, or cloth, it's up to you, to choose what suits your situation better. After you apply the first coat you should wait approximately an hour before you add a new coat.
It's recommended to apply the second layer the same day and it would be great if you would wipe off any excess sealer after about twenty minutes. After a few hours, you're going to be able to use your wood furniture or any kind of surface you maintained.
From time to time, you can clean it with soap and water. Seasonally you can apply Semco teak cleaner and your teak will look beautiful for years.
Semco teak sealer colors
This special teak sealer comes in 3 different shades: Cleartone, Natural, and Goldtone. You can choose the one that best suits you. This is a big advantage that this company offers, you have three Semco teak sealer colors. Usually, companies make sealers just in one shade/tone and that color is most often neutral.
Semco teak sealer color chart
If you're not sure which color is the right one for you maybe this color chart will help you. On the Semco teak sealer color chart, you can see all three shades this company offers. Take a look and try to choose the right one for you.

Semco Natural teak sealer
If you are a fan of more natural and basic tones Semco natural teak sealer is the right choice for you. It will look great on any kind of wooden surface. Natural imparts a golden-tan glow to the wood that resembles a slightly weathered teak.

Semco Cleartone teak sealer
In case you are looking for more clear tones, Semco Cleartone teak sealer could be the best for you. This shade contains no pigment and looks like oil. The only bad thing about this one is that is not as weather-resistant as the other shades.

Semco Honeytone teak sealer
Golden tone or honey tone is not for everyone. It's a great option for those that are looking for more rich wooden tones. Semco teak sealer Honeytone produces the yellow-brown luster of teak that has been freshly sanded. It gives the wood a more authentic look.

Best Semco teak wood sealer uses
With a Semco teak wood sealer, you can protect many types of wood: cedar, oak, and pine. Also, it's usable for the protection of all kinds of teak products like teak shower benches, outdoor teak furniture, and boat decks.
A very important thing to remember before using this product is that we should never use it on teak products that are used for food preparation like cutting boards and kitchen countertops.
Semco teak wood sealer uses on most hardwoods and that's just one of its advantages.
Storage and spill procedure
While using this teak sealer you should be careful and store the product properly and avoid spilling as well. If spilling happens anyway try to act responsibly. In case of a small spill try to absorb the spill with inert material such as sand or earth. After that place it in a chemical waste container for proper disposal.
If a large spill happens dike contains spilled liquid with sand or earth. Don't use combustible products to absorb the spill. Prevent runoff to sewers, streams, or other bodies of water and notify authorities if that happens.
The best way to keep a safe product and environment is to store it in a closed labeled container within a cool, dry ventilated area. The product should be stored in a closed labeled container within a cool, dry ventilated area. Try to keep the container closed when the product is not in use and protect it from physical damage.
Before you finally decide if this product is right for your purpose, you should check its pros and cons just to be sure what are advantages and possible minuses.
Water-based eco-friendly product
UV protection guaranteed
Three shades available
It repels the water without being slippery
The product is not the cheapest option available on the market
It starts to fade after some time in the sun, so it's necessary to apply it seasonally
Frequently asked questions
In case you have questions to ask take a look into our FAQ section, maybe you can find the answer you're looking for here.
Q: How much sealer do I need?
A: The quantity depends on the size of the surface and the number of layers you want to apply. One gallon tin is enough to cover 200 square feet of teak wood on the first coat. The same quantity is enough for 400 square feet for the second coat.
Q: Are there any health hazards using it?
A: If eyes get in contact with liquid it can cause eye irritation. Besides that, if you are overexposed it can irritate mucus membranes. Repeated or prolonged contact with the skin can result in defatting and drying of the skin which may result in skin irritation and dermatitis.
Q: How often do I have to apply it?
A: Basically, that's up to you. Recommended is to apply it 2x a year and it's best to do it before summer starts.
Q: How much do I need to cover my table and 4 chairs?
A: If the furniture is in a good shape one coat should be enough and if you think that a second coat is needed buy a gallon and use the rest of it next season.
Q: Can Semco teak sealant be stored at any temperature?
A: Keep containers from excessive heat and freezing. Do not store at temperatures above 120'F.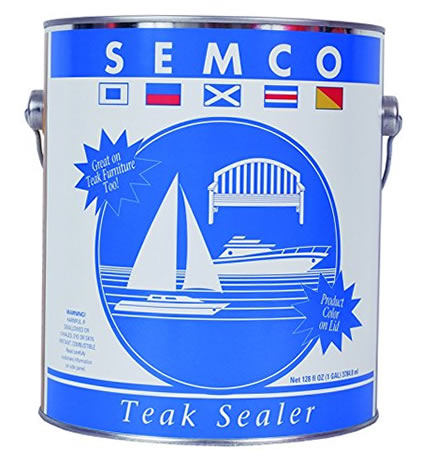 Conclusion
Thank you for reading this article with us. We learned more about Semco teak sealer. Now you have a detailed description of this product and know all its pros and cons. If you still have questions feel free to ask.