Today, you're going to learn how to find the safest shower chair possible for your bathroom.
You will get to know which shower chair features are a must-have and, on top of that, I'll show you 10 shower chairs that are safe and won't break the bank.
Whether you're of age, injured, or have a disability, investing in a good shower chair will keep you safe and make showering enjoyable again.
That's why I want to show you which features are the most important, how to use the chair properly and which ones on the market fit all the criteria. Let's have a peek at the topics I'll cover today:
[toc]
Safest shower chair
Dr. Maya Adjustable Shower Chair
This is the safest shower chair that you can get at this price.
It's customizable, strong, durable, and easy to use and it fits almost any bathroom space.
5 Features a Safe Shower Chair Should Have
What qualities does the safest shower chair have? Let's take a look at 5 main features that every safe shower chair should have:
Back and hand support: Arm and backrests are crucial indicators of how safe the chair is. With this sort of stability is much harder to fall off and they add to the comfort of the chair.
Weight capacity: You should make sure that your chare's weight capacity is at least 10 pounds more than your weight. Pushing the chair to its weight limits is just an accident waiting to happen.
Good drainage: A good shower chair should have drainage slats on the seat so the water doesn't linger. All that soap resides in can make it slippery and dangerous for use.
Adjustable leg height: For uneven floors in the shower or the bathroom, chairs with adjustable leg height are a must. You can make them much more stable or lower them enough if you have trouble reaching the seat.
Easy to clean: If you are struggling with an injury or disability, cleaning a shower chair is an additional challenge. Many easy-to-clean chairs can make the situation safer.
Safest Shower Chair on the Market
Price
Model

1. Dr. Maya Chair with Back and Arms

Weight capacity: 300 lbs
Corrosion resistant aluminum legs
Back and arms

2. Drive Medical Premium Chair

Weight capacity: 350 lbs
Tool-Free assembly
Lightweight design

3. Carousel Sliding Transfer Chair

Weight capacity: lbs
Medial padded swivel seat
Height adjustable legs

4. Vaunn portable shower chair

Weight capacity: 300 lbs
Padded arm rests
Anti-bacterial polyethylene seat

5. Duro-Med tub transfer bench

Weight capacity: 400 lbs
Sliding seat
Cut out for easier access

6. Moen Safety Transfer Bench

Weight capacity: 400 lbs
Adjustable height
Non-slip seat surface

7. Medokare Shower Chair

Weight capacity: 280 lbs
Padded bath seat
Anti-slip rubber feet

8. Vive Shower Chair with Back

Weight capacity: 300 lbs
Tool-free assembly
Lightweight frame

9. Moen DN7100 Shower Chair

Weight capacity: 400 lbs
Non-slip seat surface
Meets ADA specifications

10. Platinum Health Padded Chair

Weight capacity: 300 lbs
Easy- to-clean seat surface
Robust medical-grade aluminum frame
There are plenty of safe shower chairs on the market today, but there are just as many unsafe ones. It's sometimes hard to make the right decision and not everyone has time to research it.
To help you narrow down your choice, I've picked 10 shower chairs that are well crafted, easy to use, and most importantly, extremely safe.
Either one of these will be a great choice, so let's see what are their strongest points.
1. Dr. Maya Adjustable Shower Chair with Back and Arms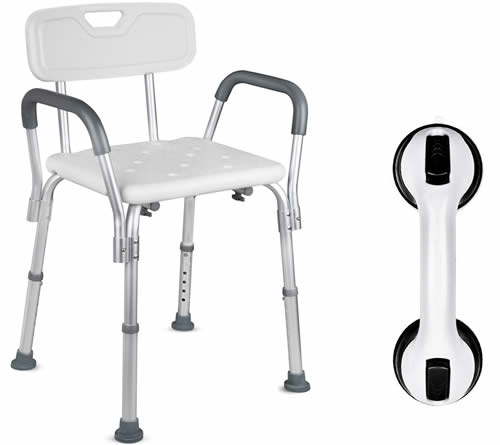 Let's start with probably the safest shower chair that I could find at an affordable price. Made from high-quality materials, the chairs are sturdy, durable, and can hold up to 300 pounds.
The seat is wide and comfortable and it comes with drainage holes on it. On top of that, it has sturdy arms and backrests, providing you with extra safety and comfort.
You can easily adjust the height of the legs to fit your needs and there also come anti-slip rubber feet to keep the chair secure.
One of the reasons that I choose this safest shower chair is that it fits all types of bathtubs and showers.
The assembly of the chair is quick and easy and you also get a nice shower handle as a gift.
Great build quality
Adjustable height and customizable
Affordable price
Up to 300 lbs weight capacity
Get shower handle gratis
The free shower handle is weak
Too small for larger people

2. Drive Medical Premium Shower Chair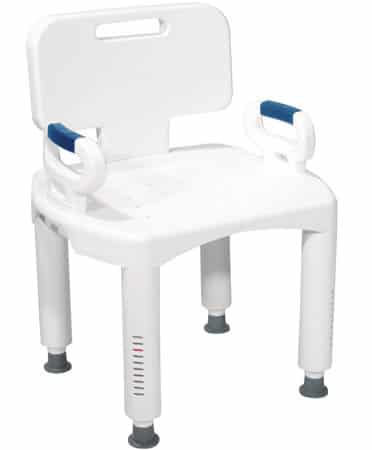 You are now looking at one of the most popular shower chairs on Amazon that is still very safe. It offers all that you want from a shower chair to a very affordable price.
You won't find a cheaper chair on the list. If you are looking for a good deal, you got it right here.
The legs with non-slip rubber feet are easily adjustable in ½" increments so you can customize the height.
Ergonomic comfort seat (16.5" x 21.75" x 16-20.5") with drainage holes fit all shapes and sizes. You also get back and armrests for support.
Even though it is made from plastic, it can still hold up to 350 lbs. Since it's plastic, it may seem a bit less sturdy, but there's also no risk of rust.
Easily adjustable non-slip legs
Very affordable price
Holds up to 350 pounds
Lightweight but stable
Comfortable seat
Made from plastic
Arm and backrest a bit too low

3. Carousel Sliding Transfer Shower Chair
If you have a bathtub and struggle with entering it, whether it's injury or disability, this may be the chair for you.
The carousel Sliding shower chair by Platinum Health comes with a stainless steel base and a seat that slides and rotates along with it.
You can use it from both the left and right sides. Besides adjusting the position, you can adjust the height of the legs too.
The
padded seat
and back and armrests, provide extra comfort and also prevent slipping and sliding. It does not absorb water and it's easy to clean.
The price is a bit higher, but you will get a professional-grade shower bench.
Innovative swivel seat design
Perfect for any bathtub
Comfortable seating and rests
Sturdy and adjustable
HI contrast color for visually impaired
A bit expensive
Not for tight spaces

4. Vaunn Medical Tool-Free Portable Shower Chair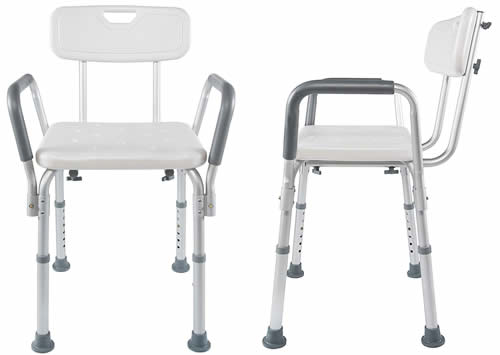 A chair like this can be used within 5-10 minutes after you receive it. You don't need tools to assemble it and the process is straightforward.
The chair weighs only 6-8 lbs and it's easily moved, but it's still sturdy enough to hold up to 300 lbs of weight. As with most safe chairs, adjustable legs come with anti-slip rubber feet to prevent awkward falls.
Besides the adjustable legs, you can also remove back support or padded armrests if you don't need them.
Anti-bacterial polyethylene seat is quite comfortable and it comes with drainage holes. All in all, it's a decent shower chair for this price.
Affordable price
No tools assembly
Lightweight and portable
Highly customizable
Not great for bathtubs
Assembly directions could be better

5. Tub Transfer Bench by Duro-Med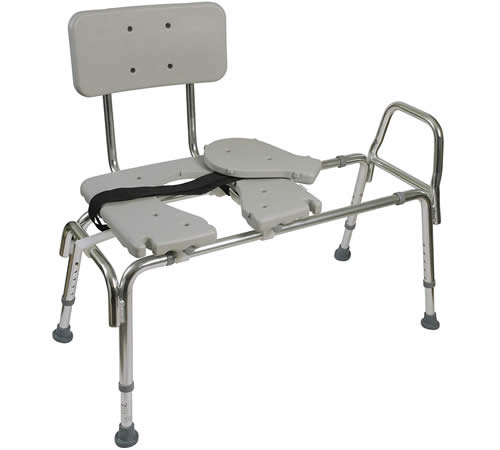 Here's a more conventional transfer bench by Duro-Med, allowing people of age or with a disability to enter bathtubs safely.
It can also be used as a shower chair, but you need to make sure you have enough room for it.
The stainless steel base has adjustable legs with rubber feet and it measures 19.25" x 39".
The whole thing weighs nearly 15 pounds and can hold up to 400 pounds. The seat has nylon strap locks and a safety belt for maximum safety.
The seat is comfortable and easy to clean, it also comes with drainage holes as well as a removable part in the middle for easier access.
The assembly is easy and tool-free, anyone can do it.
Affordable transfer bench
Holds up to 400 pounds
Safety locks and belt
Adjustable legs
Removable cut-out
Not for cramped spaces
The seat a bit small

6. Moen DN7105 Adjustable Safety Transfer Bench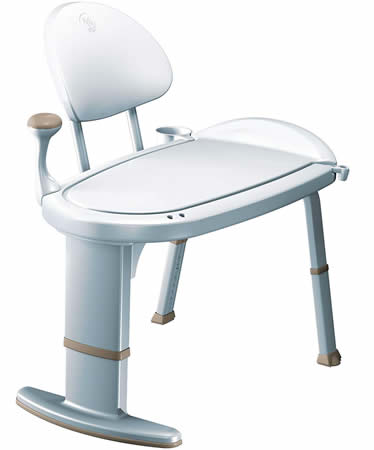 If you are scared that a shower chair will impact the look of your bathroom, then take a look at this one.
It's one of the best-looking shower benches on this list. It also comes with a handy basked organizer for essentials.
It allows you to safely get in and out of the bathroom while still looking good.
The bench complies with ADA specifications and it can support up to 400 lbs of weight.
The bench is easily assembled and can be set up to fit both the right and left sides. The height is adjustable between 16.5" and 21".
The bench is incredibly sturdy and will fit most bathroom styles.
Beautiful design
Basked organizer included
Holds up to 400 pounds
Adjustable height
ADA compliant
The water drips outside the tub
Rubber feet may come off

7. Medokare Shower Chair with Rails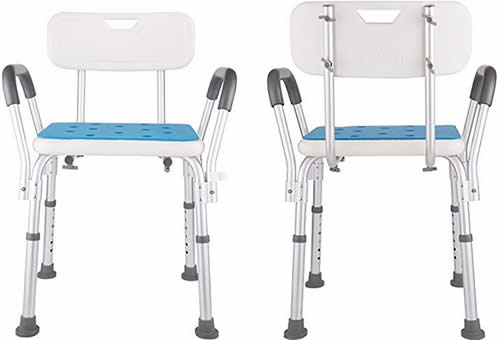 Unlike transfer benches, this shower chair is great for smaller showers or baths. It is quite compact and lightweight, but still durable enough to provide you with the safety you need in the bathroom.
The stool can be assembled quickly, with no use of tools. You can adjust the height from 12.5" to 18.5" to fit your measurements and it can carry up to 280 lbs. As with most chairs, the legs have safety rubber feet.
There's a small notch for your shower head built-in. The seat and the arm handles are padded for extra comfort and there are also drainage holes for easier cleaning.
Easily adjustable non-slip legs
No tools required
Lightweight and compact
Good for smaller showers
Padded seat
Not for larger persons
A bit wobbly at times

8. Vive Shower Chair with Back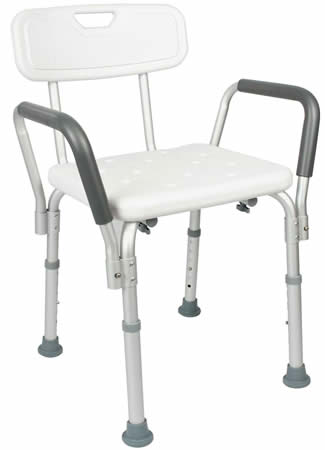 There is plenty of choice for the safest shower chair, this model by Vive is another great example. The sturdy stainless steel base can hold up to 300 pounds and can be adjusted to your height.
To make your experience safer, your legs have rubber non-slip feet and you get extra support in arms and backrests.
The comfortable non-slip seat is quite wide and it has great drainage, preventing slippery soapy water to linger.
You can assemble it with no tools at all and it's light enough that you can move it around easily. You can also remove the backrest if it gets in the way.
Easily adjustable non-slip legs
Great water drainage
Assembled in minutes
Lightweight and portable
 Comfortable non-slip seat
Instructions could be better
Tight for larger persons

9. Moen DN7100 Adjustable Shower Chair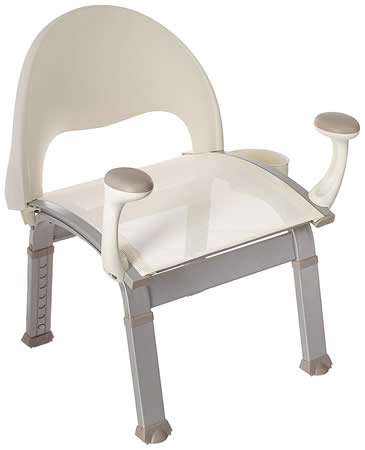 As you can see, they are not afraid to innovate when it comes to shower chairs in Moen. They came up with a safe shower chair with a unique, great-looking design.
The ergonomically shaped seat provides the best drainage that I've seen. The design of the legs makes the chair very stable and safe. You can also adjust the height of these from 15" to 21".
This beautiful little chair can support up to 400 lbs. It also has unique arm handles instead of long rests, which gives you more mobility.
Beautiful design
Best seat drainage
Holds up to 400 pounds
Adjustable height
ADA compliant
Not for narrow bathtubs
A bit tricky to assemble

10. Platinum Health Padded Shower Chair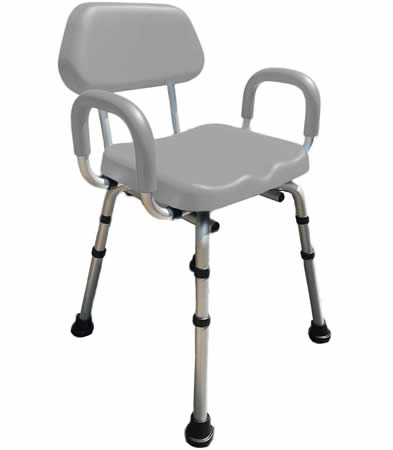 It's not all about safety, you also want your bathroom experience to be as comfortable as possible. That's why this model by Platinum Health is a great choice.
A comfortable, warm-to-the-touch seat prevents slips and tears while providing a pleasant bathing experience.
The arm and backrests are added too. On the other hand, the medical-grade aluminum frame provides the stability and durability needed.
Here too, you can adjust the legs and they all have rubber feet to prevent slipping. The padding of the seat also doesn't absorb water and is very easy to clean.
Nice design
Comfortable padded seat
Adjustable height
Easy to clean and maintain
Strong base
Backrest is not very comfortable
A bit pricey

Safe Use of Shower Chair
A shower chair should be there to protect us from injury, but if not used correctly, it can cause damage too. I'll show you a few basic tips on how to use the shower chair safely to prevent unnecessary injuries and enjoy your bathroom experience.
Make sure that all the legs are standing firmly on the floor. Shake them a bit to check if they wobble.
Don't make a lot of sudden movements while using a shower chair.
Place everything you need within arm's reach so you don't have to stand up or lean away from the chair.
Adjust the height to your measurements. You should be able to sit and stand up easily from the chair.
Clear everything around it, so there's no risk of stumbling and falling.
Safety mats and towels can help too. It's always dangerous to step out on a wet slippery surface such as tiles.
Watch where you sit. Don't put too much of your weight on the edges of the seat.
If you are not too comfortable on your own, it's also a good idea to ask for help if you can. At least the first few times.
To further improve bathroom safety, read our Bathroom safety for the elderly article.
Frequently Asked Questions
Some questions get asked all the time about shower chairs. I'll answer the best I can to some of the most frequent ones.
Q: Will Medicare cover a shower chair?
A: Unfortunately, Medicare does not cover shower chairs. They are used to provide additional support in the shower or the bathtub. Medical Part B only covers personal equipment if it falls under durable medical equipment (DME). For a product to be qualified as DME, it needs to serve specific medical conditions and be designed to last for several years.
Q: How to clean the shower chair?
A: Most of the time, cleaning the shower chair is quite straightforward. You just need to use a bathroom cleaner combined with water. Some manufacturers have special instructions for their chairs, so it's a good idea to read them. Whatever you do, rinse well afterward, you don't want that slippery soap building up.
Q: How much does a shower chair cost?
A: The price of the shower chair can be as low as 30$ and as high as 250$ when it's for personal use. More expensive doesn't always assume better quality, but you don't want to skimp out. Investing a bit more in a quality chair can mean a lot.
Q: How high is a shower chair?
A: All the good shower chairs have adjustable height, which makes sense. The option to adjust the chair makes it so much safer and more comfortable for the person using it. When it comes to ADA compliance, the chair needs to be between 17" and 19" high.
Final Thoughts
Having the safest shower chair can completely transform your bathroom experience. It provides comfort and confidence and also returns a sense of independence to many.
I'm sure you'll be able to make the right choice with this article. Feel free to post any questions or your general impression in the comments below.