Are you in the market for a new shower bench and wondering which material is the best for your needs?
A shower bench is an essential bathroom fixture that provides comfort, convenience, and storage space.
However, with so many different materials to choose from, it can be challenging to know which one is the best.
In this article, we'll guide you through the process of choosing the best material for your shower bench.
We'll explore the pros and cons of the most popular materials, including wood, stones, tiles, and plastic, to help you make an informed decision.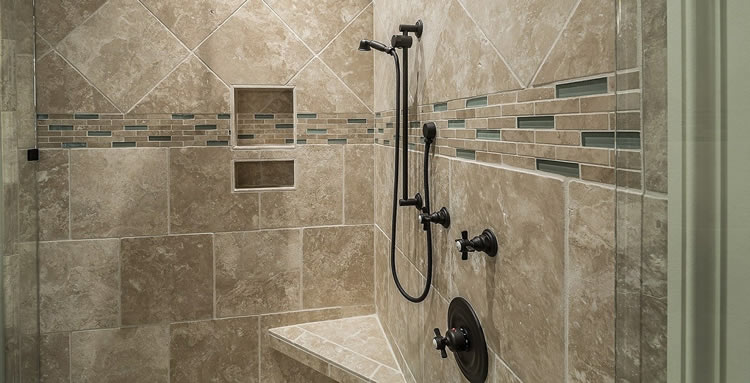 What to look for when choosing shower bench material?
Shower benches are a very helpful thing to have in your bathroom. It can be very practical, but also decorative and classy. Some people also use it as a storage shelf for shampoo and soap bottles.
When the best material for the shower bench seat is selected right you can enjoy your bathroom without fear of slipping or decay of materials caused by a wet environment. If you have it, have in mind that choosing the best material for a shower bench is an important decision.
On the market, you can find several natural and a few artificial materials to choose from. Be careful while picking. You want to have in mind three important things: the budget you have at your disposal, maintenance cost, and aesthetics.
As always, some materials cost more than others, but that doesn't necessarily mean that they are a better solution for you. Pay attention to the pros and cons of all materials, not only on price.
Some materials require much more effort when maintenance comes into question. For some of them, we need special oils, cleaning agents, and tools.
The aesthetics of shower benches and seats is something that completely depends on the buyer personally. I like the most the teak one because it looks warm and nice but someone else is a fan of marble. That's completely up to you.
This article can be your small guide for picking the best material based on your personal needs and wishes.
Wooden shower bench tops: Pleasant and renewable
Wood is again in style. We can often see U-shaped wooden shower benches in bathrooms. They are giving a special spa look even to the simplest bathroom. Many people choose exactly wooden shower bench tops because they are the most comfortable ones.
There are many different kinds of wood that can be used for shower benchtops and all of them need some maintenance. Usually, these types of wood have to be highly resistant to mold, bacteria, and water.
Some of the most popular woods for those purposes are teak, bamboo, acacia, and cedar. We're going to see what their good and bad features are.
Teak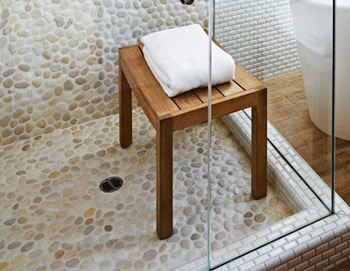 As I mentioned at the beginning of this article, the best material for a shower seat in my opinion is teak. There are several reasons why I think that and I will share them with you.
The density and weight of teak wood give a special, luxurious spa look to every bathroom. If your bathroom is in earthy tones it will do a perfect match with the teak shower stool.
But even more, a beautiful effect is achieved when the teak bench is placed in a modern bathroom. That contrast of vintage and modern gives a really special note.
Teak wood is so popular because it's known for its durability and water-resistant qualities, it's not just a pretty face.
These days, teak wood is usually grown in plantations and because of that, they are more susceptible to color change from exposure to UV radiation. Good thing is that color change is not affecting its durability.
You can maintain the teak with regular coats of teak oil and teak sealer. That way you'll keep their appearance and durability.
Another great feature of teak wood is the fact that this wood is moisture and mildew resistant. And we all know how much is that important if we have in mind how wet the environment is in a bathroom.
Also, the rich natural oil it produces gives it protection from bugs, which often thrive in the humid environment of the bathroom.
Teak wood has two small disadvantages. One is that you need to use teak oil regularly and the other is the fact that you need to clean it often. But nothing less teak is one of the best materials for a shower seat.

Needs regular maintenance (every few months)
It's pretty expensive for the wood
Bamboo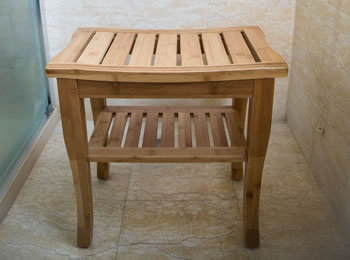 One of the most affordable materials for shower benches is definitely bamboo. It's much less expensive than teak.
Bamboo is a type of wood that doesn't have its natural oil. Maintaining it with minerals or some other kind of oil is something that necessarily needs to be done.
Since shower benches are constantly exposed to water and humidity it can cause the appearance of mold and mildew.
The bad thing about bamboo is that it can suck humidity and that way they grow, and then again when humidity evaporates it shrinks.
This can mean only one thing – bamboo three is not durable as other types of wood.
If you're on a budget, the bamboo shower bench is not a bad option for you. But keep in mind that in this case, a lower price means more maintenance and a shorter lifespan.

Affordable
Comfortable to seat on
Not very durable
Needs regular maintenance
Cedar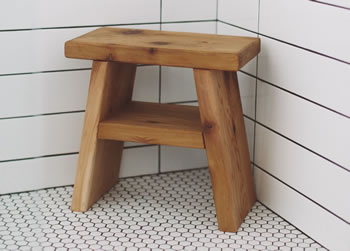 Cedar is a beautiful redwood. It's famous for its adorable smell when it`s new.
Having a cedar is a good choice, even though you need to seal it first if you want to protect it from damage.
Cedar is a very sturdy wood, but it can easily swell due to high-humidity conditions in the bathroom.
After cedar starts swelling it will lose its durability and that will shorten its lifespan. Moisture is also causing the wood to rot and decay.

Needs to be sealed periodically
Can swell in the shower
Shorty life span
Is acacia wood good for a shower bench?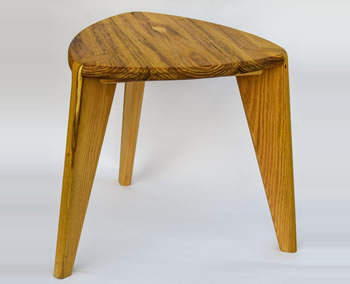 Acacia is a beautiful and sustainable wood that is grown in tropical regions. Abundant and hardy.
Acacia has a similar look and feels to teak. It has a more affordable price while having a similar performance as teak.
Like teak, Acacia is rich in natural oils, making it resistant to water and the elements.
The main difference between acacia and teak is that teak does have a longer lifespan and is a bit stronger.
On the question is acacia wood is good for shower benches we can answer that acacia is a great choice for showers and baths, both indoors and outdoors.
If you're on a budget, acacia is a good investment. However, if you can spend a bit more, go for the teak.

Resistant to water
Strong
Reasonably priced
Needs a bit of regular maintenance
Not as strong as teak
Stones
The most durable material in high-moisture condition is stone. The stone advantage over wood is less or almost no maintenance at all.
However, stone can be quite pricey in regard to other shower benchtop materials. Also, we must admit that seating on the stone while showering is not the most pleasant thing. It can be a very uncomfortable surface to seat on.
Below, we'll see what kind of natural and manufactured stones are the most popular for shower benches. Also, we will find out are advantages and disadvantages of every kind.
Marble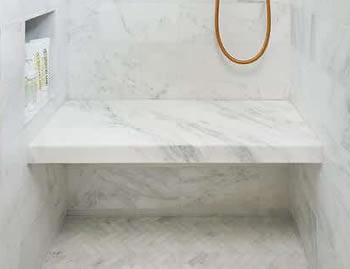 One of the most beautiful stones is a marble. Having it in a bathroom will make your space more elegant and sophisticated.
If you want to use marble as your shower bench, you need to have it properly sealed.
One of the best things about marble, besides aesthetics, is that is very easy to clean.
The marble shower bench will not require any special cleaning agent, you can use whatever you use to clean your shower tub.
That is in a way, a huge time saver. Also, it's water-resistant and well tolerates humidity.
Marble is one of the most expensive materials predicted to use as shower benches. Benches made from this material are heavy and hard to move.
Keep in mind that marble can be cold during the shower, so if you decide that marble is the best shower bench material for you, you can use a shower seat cushion with it.

Natural material
Beautiful
Easy to clean
Cold to seat on
Expensive
Granite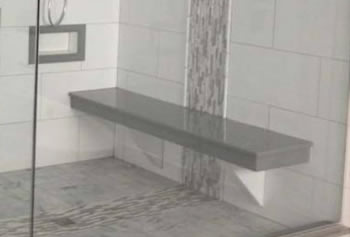 Granite has a lot of similar features to marble. Both marble and granite, are porous stones and they can absorb liquids very quickly.
If you choose to use granite for a shower bench, it would need to be sealed very well, to begin with.
Granite in the bathroom definitely improves the general impression of the space.
It gives a smooth and elegant look that will make you enjoy your bathroom.
Even though granite is easy to maintain and looks great it has one disadvantage – it's pretty expensive.
So if you have a limited budget granite may not be the best solution for you, try some other shower bench top material.

Cleaning is super easy
Natural material
Has long lifespan
Quartz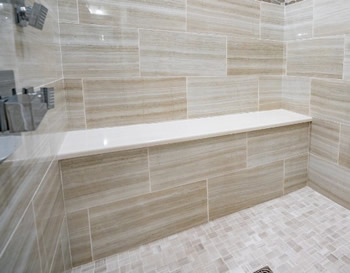 Quartz is one of the artificial, manufactured stones. Man's hand made it to be non-porous and low-maintenance.
Both features are a big plus if you're thinking about quartz as a material for your shower bench.
Great is that quartz doesn't require any special cleaning agent, you can maintain it just like any other surface in the bathroom.
Also, you don't have to apply sealers or worry about re-applying later.
On the other hand, quartz can be really expensive, as much as granite sometimes. Some people, to save money, are buying leftover quartz pieces in specialized stores. If you're on a budget but like quartz that could be a good solution for you.

Easy to clean
Non-porous
Low maintenance
It's quite expensive
Hard to replace
Tiles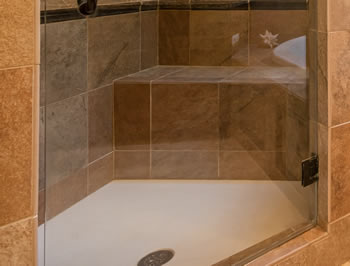 Many people are choosing tile as they see it as the best material for the shower bench seat.
The main reason is that they are easy to fit in the bathroom interior.
Most bathrooms have tiles on walls and floor so continuing the tile from the shower walls onto the shower bench seems like a practical solution.
One big minus for selecting tiles is high maintenance. They can be really hard to clean.
Mold very easily appears on joints of tiles, due to humidity. That one is really tricky for cleaning.
If you want to make some contrast in your bathroom and you already have tiles on the walls then choose some other material that will suit your space better.

Simple to make
Affordable
Durable
Can be cold to seat on
Costly to replace
Hard to fix
Plastic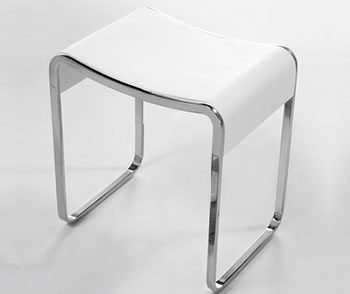 Plastic bench tops are used almost exclusively for medical shower seats and benches.
They are great if you have an elderly in a home or a disabled member of the family. Reducing the risk of falls is their main task.
People use plastic benches if they're having issues with balance and strength.
They are also great for someone who has difficulties with leg lifting over the side of the tub or standing in the shower for too long.
Good thing is that on market, these days, you can find shower benches with many features. Most of them have adjustable heights and backrests, which can be very practical if the disabled person is using them.
Those kinds of chairs are usually made with plastic seats and metal legs, most commonly aluminum ones. A big plus for plastic seats is that they are very affordable and easy to clean.
If you are looking for a cheap and fast solution this could be a good option for you. But have in mind that they aren't too pleasing to the eye.

Very affordable
Easy to clean
Not for build-in shower benches
Not very pleasant for the eye
Which shower benchtop material should you use?
Any of the listed materials can be a good choice for you. We selected the best material for a shower bench currently available on a market, so you cannot go wrong with any of the materials you read about. You just need to determine which one best suits your needs and desires.
While selecting the best shower bench material it's necessary to consider a few things. Most important are your budget, lifespan, and maintenance of the material.
After you determine how much money you want to spend on it and which features are most important for you you'll make the decision easily.
Even though I consider teak as the best shower bench top material, it doesn't mean that would be the best choice for you as well. Consider all pros and cons of materials first.
Conclusion
Together we become acquainted with the best material for a shower bench. Above are listed some of the most popular materials.
Transparently displayed the pros and cons of every material so you know what you can expect from each of them and choose the right for you accordingly.
Feel free to make a question if you have it or share your own experience with us, it can be helpful for someone.