Are you tired of seating in the hard shower chair? If you are sick or aging, standing in the shower is an agony. Some will use a shower chair or stool in the shower to ease the discomfort. But without enough cushioning, shower chairs can be hard and aggravate the pain further in some. This is the reason why you need a shower chair cushion.
There are plenty of options available in the market when buying a shower seat cushion, and if you are confused about which one to go for, you are on the right page.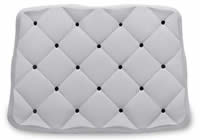 My favorite shower bench cushion pick
Duro-Med Bench Cushion
It is made from a flexible, high-quality foam that you will not find in any other seat cushions. This foam is waterproof and has multiple vents that prevent water build-up.
[toc]
Main Shower Bench Cushion Features to Look For
Choosing the right cushion for your shower chair can be confusing, even more, if you don't have any idea what to look for in one. Here are features that you need in a shower chair cushion and why these features matter.
Quick Drying: One of the most important features that you need in a shower cushion is it should be quick to dry. Because it can get soaked while showering, it is essential that the cushion dries quickly or else it can get stinky and moldy. A quick-drying cushion will also make it ready for your next use.
Adjustable Straps: Because you need to transfer the cushion from one chair to another, it should be safer to use. Straps can help get it securely in place. You don't want to get hurt in the bathroom just because your cushion accidentally slipped from the chair.
Washable: Any item that comes in contact with water and different cleaning solutions like shampoo, and soap, among others can cause mold and bacteria to grow so the cushion should be washable. It should also be easy to wash.
Waterproof: Not all shower chair cushions are waterproof, and they don't need to be. But waterproof ones are better because there is no need for them to dry. It is also hard for them to get dirty or moldy.
Best Shower chair Cushions on the Market
Price
Model

1. Duro-Med Waterproof Seat Cushion

Fully waterproof
Vents for increased airflow and to prevent water buildup
Dishwasher safe

2. Backjo Padded Shower Cushion

Heat resistant to 180F/82C
Reducing stress on the lower back
Meets CAL 117 requirements

3. Medokare Shower Chair With Cushion

Adjustable height
Weight limit: 280lbs
No assemble tools needed

4. OasisSpace Seat Cushion

Quick drying
Breathable mesh fabric
Lifetime guarantee

5. Dr. Franklyn's Waterproof Seat Cushion

Quick drying
Multipurpose use
Very comfortable

6. EasyComforts Bathtub Cushion

Waterproof foam cushion
Easy to clean
Securely attaches

7. Nova Medical Products Cushion

Easy to clean
Foldable & portable
Velcro strap
I tested several shower seat cushions to create a shortlist of this product for you. This collection has the best shower cushion.
To determine which shower chair cushion will make it to our top five, I compare them according to the size, materials, and ease of use.
1. Duro-Med Waterproof Bath Seat Cushion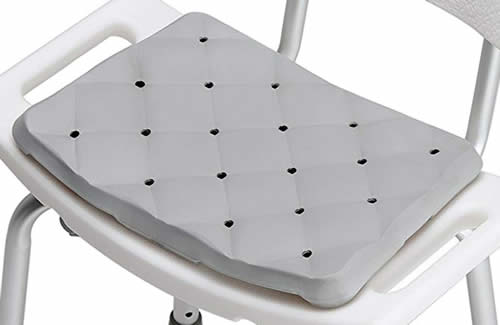 Here is a waterproof bath seat cushion that manages to win our hearts. The Duro-Med foam bath seat cushion is widely considered the most affordable bath seat cushion you can buy.
It is made from durable and superior foam material which is not commonly found in other shower cushions. This seat cushion is also waterproof and has multiple vents that can help in preventing water build-up.
Being waterproof also makes cleaning this cushion easy and hassle-free. For added comfort, the top is also bolstered with additional padding, and it is also lightweight that making the cushion very convenient to take anywhere.
Weighing less than a pound, it is easy to take it when traveling or during special events where you need extra cushioning.
Designed to fit any shower chair and transfer benches
Waterproof and easy to clean
Made from durable materials
Extra cushioning for added comfort
Smaller than advertised
Doesn't stay in place

2. yBackjo Padded Shower Seat Cushion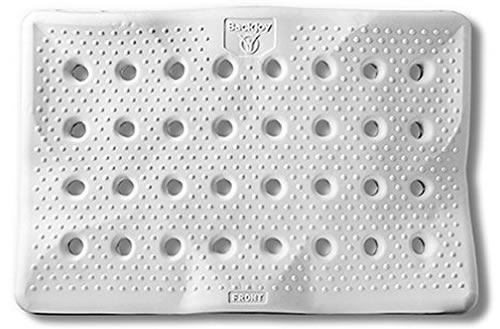 Coming from a company that produces therapeutic seats to improve posture, decrease pressures, and lower the level of moisture and temperature of the skin, this padded shower seat cushion is no exception.
It has a pre-contoured surface to keep the balanced posture the bottom has a shorter pillar on the pelvis area to allow the cushion to hold the load.
It is made from durable closed-cell EVA foam. This bath seat cushion is heat-resistant up to 70 degrees and waterproof.
For added comfort, it has a breathable zippered cover that allows the seat for free airflow. It can fit most shower seats and bathtubs.
Although it is a little more expensive than other bath seat cushions, it is all worth it because it is easy to use ad very easy to clean.
Waterproof, heat-resistant, and durable
This product works as it can also improve posture
It is breathable and allows free airflow
Can fit most shower and bathroom chair size
Easy to clean
You should have enough weight to keep the cushion from floating
A little hard to sit on

3. Medokare Shower Chair With Cushion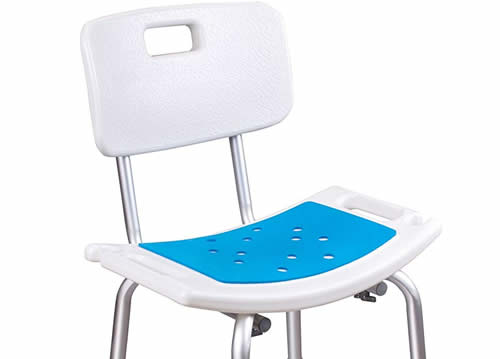 If you don't have a shower seat yet and or have one that is old, this Medokare Shower chair with a cushion is a perfect choice.
It offers a comfortable and safe solution for seniors, fall-risk individuals, or handicapped while they are showering.
It has a sturdy frame and angled legs. The non-skid rubber feet are a perfect safety measure. It is also durable and sturdy from the materials it's made from.
The seat is wide and contour-padded to offer excellent support. This seat has drainage holes on the padded seat, which allows the water to be drained effectively.
It not only reduced the risk of slipping but also prevents molds and bacteria from living in the chair.
Assembling the chair is easy and within minutes. You can also remove the back of the seat to fit in the bathtubs or shower.
The ergonomic design with the padded seat provides comfort and convenience
It is flexible and can fit any shower or bathtub
Micro-holes on the drainage improve the sitting experience
Reduced risk of slipping because water is thoroughly drained
Lightweight and durable
A plastic knob on the screw can break easily

4. OasisSpace Shower Seat Cushion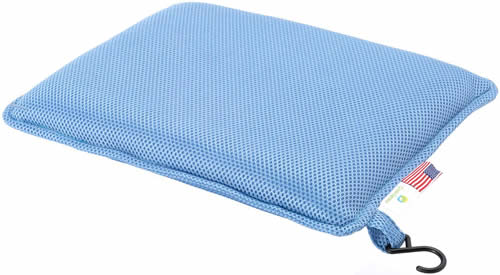 If you are currently looking to buy a great value-for-money shower seat cushion, then this OasisSpace bath cushion is the best choice.
This seat cushion is made from flexible and high-quality foam with a comfort that you cannot find in any seat cushion.
Whether you just had back knee or hip surgery or with back problems like many seniors that cannot sit directly sit on a hard surface, this seat cushion is the best answer.
It has soft cushioning and unmatched durability that you can't find anywhere else. It can fit perfectly in any chair too and has drain holes to let the water pass through.
The high-quality foam has quick dry technology, and it is easy to dry after a shower.
Unmatched durability
High-quality foam with unmatched durability
The soft and high-quality foam
With drain holes to help disperse the water
Easy to clean and dry
It does not have the appropriate stability
Size does not fit all

5. Dr. Franklyn's Waterproof Bath Seat Cushion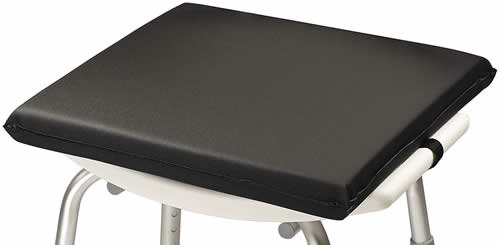 Most seniors who are not able to stand or sit on hard surfaces will love this chair. It will keep them comfortable while showering instead of sitting on a hard chair.
This waterproof cushion will provide the comfort they need. It can be placed securely into the bath seat with straps.
Still, with comfort in mind, it is made with a rubberized material for the desired waterproofing, but it is still firm and soft to the touch.
This cushion will also not flatten even under the weight of your body. The quick-dry technology used in the cushion provides easy storage as it only needs thorough wiping after use.
Its straps anchor the cushion to any chair, whether it is a shower bench or a wheelchair.
The non-skid rubberized material is also electronically sealed, preventing the heavy water feel or getting slippery when it is wet.
Comfortable and provides enough support
Waterproof bath cushion
Fits securely onto any chair
Straps help the cushion firmly in place
Electronically sealed prevents the heavy water feel
The straps can be difficult to undo
The cushion can move around the chair even with the straps

6. EasyComforts Bathtub Seat Cushion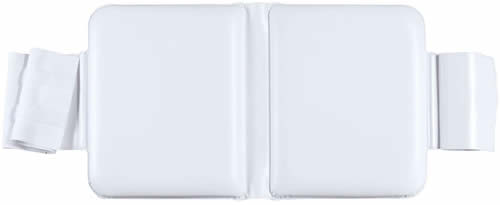 This bathtub seat cushion can add comfort to a hard and stiff bath seat. It is made from a waterproof foam cushion that securely attaches to any standard bench or bath seat.
The EasyComforts bathtub seat cushion has adjustable straps in a hook-and-loop configuration where you can fasten it underneath the chair.
It has a PVC exterior and sponge interior that is easy to clean. You only need to use warm water and soap.
This bath cushion is a perfect bathroom aid for caregivers who are attending to patients with mobility problems.
Waterproof bath seat cushion
Comfortable and helps make bath time a better experience
It can easily attach to any chair
The outer cover is durable and made from PVC
Easy to clean with water and soap
The cushions are small
It can slip from the bench

7. Nova Medical Products Shower Bench Cushion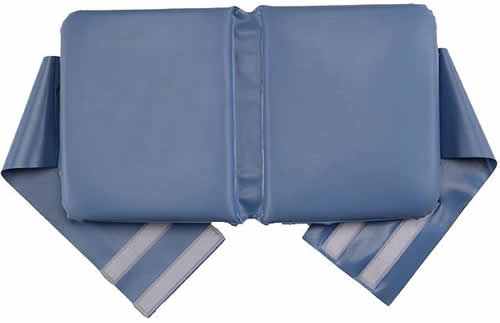 This shower bench cushion is a product of NOVA Medical Products, a company known for its high quality.  And this product does not disappoint because of the look and feel of a high-end seat cushion.
This seat cushion is easy to clean and adds comfort for people who need to sit while bathing. It also has a Velcro strap that helps secure the cushion to any standard-size benches and bath seats.
It generally adds substantial comfort and prevents pressure sores and skin tears. The built-in straps are also thin enough to fit through the slot of a shower transfer bench.
Plus, it is secured well under the chair. A perfect alternative if you cannot afford the more expensive option.
The vinyl cover is easy to clean
The Velcro straps can secure to any standard size benches and bath seat
Fits standard size bath chairs
High-quality and well-designed
Comfortable while bathing
The seat cushion is small
It can be hard and uncomfortable

Frequently Asked Questions
Q: Do shower seat cushions have a weight limit?
A: Generally, there is no weight limit for shower seat cushions, and they are suitable for anyone. However, there is a weight limit for a shower seat with a cushion. Most shower seats have a weight limit of 300 pounds.
Q: Can cushions be used on any type of shower chair or bench?
A: Yes, you can use it with any type of shower chair without a cushion. It can be attached to a shower bench, bench transfer, or any kind of shower bench. You can also use shower cushions in wheelchairs and even office chairs. The only thing you need to worry about is if the cushion can fit the chair.
Q: Are these cushions machine washable?
A: Not all shower cushions are machine washable, but if there is one, I would recommend choosing the one that is. Our first cushion on the list is machine washable.
Q: Can these cushions be used for anything else than just a shower chair?
A: Yes, these cushions can be very versatile. You can use them for wheelchairs, office chairs, and even outdoor benches. It is also used for comfortable kneeling during bathing or when washing your hair.
Q:  Can they be used in the bathtub?
A: It all depends on the cushion. If it is waterproof and can be submerged in the water, then you can use it for your bathtub. The first and second shower cushions can be used in the tub.
Conclusion
If you need a shower cushion, or you know someone who would, you don't have to worry about finding the right one because you can use the buying guide provided in this article.
I hope that this article has given you enough information about choosing the proper shower pad. Remember that the essential features you need to look for are comfort, safety, and durability.
For more questions or additional information about the shower chair cushion, you can comment below.