A shower chair with arms is designed to help elders and handicapped individuals to perform their bathing and showering activities independently.
Choosing the right shower chair is not easy, so I prepared a complete shower seat with an arms buying guide.
After reading this post, you will know which features you should focus on, where you can get them, and how to properly use them.
What makes this post even better is that I prepare a list of the top 10 shower chairs with handles that you can consider buying.
With this information (and suggestions) will help you get safe and pleasant to use a chair that won't break the bank and most important, it will help you regain independence in the bathroom.
Before you continue reading, here are some of the topics I covered in this article: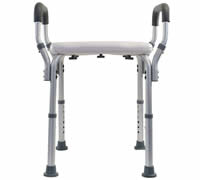 Recommended shower bench with arms
Essential Medical Molded Shower Bench
If you are eager to know what our top pick is, it's the Essential No-Back Medical Molded Shower Bench with Arms. What makes it a top pick? It is a combination of price, quality, and performance.
[toc]
4 Features You Should Look For
Before heading to the nearest store or buying it online, it is essential to know the four vital features of a shower chair with arms that you should focus on when buying one. Here are the four elements to consider:
Safety
All shower seats for the disabled and elderly provide support either way. However, it is best to choose chairs with extra features like non-slip seats, rubbed grips, or handles to support you even more.
The elderly with vision impairment issues should choose a high-visibility colored shower chair.
Good Drainage
One of the main reasons for the slippage of shower chairs is having lousy drainage. So, when deciding which shower chair to buy, make sure that the seat has drainage holes so the water can drain away efficiently.
Weight Capacity
As a general rule, when choosing a shower chair, you need to select the one that can hold your weight. Buying a shower chair with less weight capacity is as dangerous as going to shower without the chair on it.
If you can afford it, choose the shower chairs that can support the bariatric weight. Before paying, don't forget to read the seat's capacity carefully, pick the heavy-duty ones.
Durability
Shower seats are not manufactured the same, and some may offer short-term support for individuals with injuries or fractures, and some offer complete support for long-term mobility problems.
Padded shower seats with sturdy frames or sturdy plastic seats usually last longer than others. This type of seat provides both comfort and durability.
Who Should Use Shower Chair with Armrests?
We all know that a shower seat is designed primarily to prevent falls and injuries. Individuals who are worrying about their safety when entering a shower or a bathtub should have one of the best shower seats listed below.
When we say shower seats, people will associate it right away with elderly or disabled individuals. The truth is people of all ages can use them if they want to.
Some of the possible users of a shower chair with armrests are as follows:
Seniors and handicapped individuals need something to support them while showering.
Those who are just recovering from a back or spinal injury require assistance while in the shower.
Someone with a leg, knee, or ankle injury can get all the support needed to help them complete their daily showering activities.
People who depend on crutches when walking can use shower seats so they can take a bath conveniently.
Best Shower Chair with Arms on the Market
Price
Model

1. Essential Medical Chair with Arms

Weight capacity: 300lbs
Padded removable arms
Aluminum frame

2. Medokare Padded Chair With Arms And Back

Weight capacity: 280lbs
Padded seat
Height adjustable legs

3. Carousel Sliding Chair With Arms

Weight capacity: 330lbs
Padded seat and armrests
Pivoting arm restsI

4. Vaunn Medical Chair With Back And Arms

Weight capacity: 300lbs
Heavy-duty anodized aluminum frame
Anti-bacterial seat

5. Medline Chair With Arms And Backrest

Weight capacity: 350lbs
Durable aluminum frame
Tool-free assembly

6. MedMobile Heavy Duty Bath Seat With Arms

Weight capacity: 250lbs
Comfortable high-density polyethylene seat
Angled legs for added stability

7. NOVA Bath & Shower Seat with Arms

Weight capacity: 300lbs
Padded seat and armrests
Push button assembly

8. Carex Extra Wide Chair With Arms

Weight capacity: 300lbs
Adjustable leg height
Reversible seat back for left or right handed entry

9. Platinum Health Swivel Chair With Arms

Weight capacity: 250lbs
Padded seat, armrests and backrest
Swivel seat for 360° rotation

10. Platinum Health Adjustable Chair With Arms

Weight capacity: 310lbs
Padded seat and armrests
Height adjustable legs
You don't only buy the first shower chair you see in the store or online. You must check the quality, features, sturdiness, and of course, the price before you decide which one to buy.
The best shower seat with arms may cost a bit higher than others because of the added features. These extra features, like good drainage, durability, safety, weight capacity, and others, are vital in assuring the users' safety and protection.
Here are the ten best shower seats with arms that you should consider buying:
1. Essential Medical Shower Chair with Arms

It was mentioned earlier that this is the best medical shower chair with arms on the list.  The Essential Medical Shower Bench is reliable shower support, and people would surely agree with us.
It has removable padded arms for added comfort and safety. The seat is texturized to prevent slipping and with a rust-free aluminum frame.
This chair with arms is available in two versions – one with a backrest and one without a backrest.
Transporting the chair is easy as it only weighs 5 pounds. Although it is lightweight, it is sturdy and durable. It can accommodate only 300 pounds.
Its adjustable height is very convenient. The height can be adjusted from 16 to 20 inches.
This chair has water-shedding soft paddings that prevent skin tears, and it is warmer to the skin than hard plastic paddings.

It is easy to use
The product is very durable
Chair height is adjustable to fit the user's height
It is not cumbersome as compared to other benches
Easy to assemble
May tend to tip if you don't hold both arms
It has no backrest
2. Medokare Padded Shower Chair With Arms And Back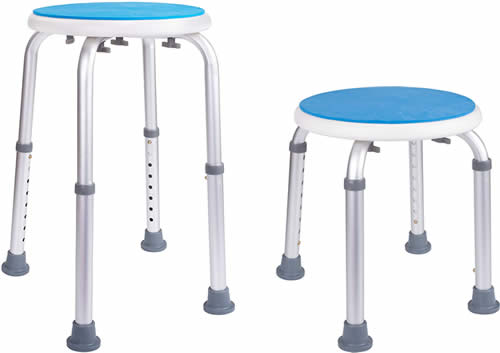 The Medokare Padded Round Shower Stool has a padded bath seat that is very convenient and comfortable for elderly and injured individuals.
Also available is Medokare Padded Round Shower Stool with a removable backrest.
The shower chair with arms and back has a detachable seat for easy cleaning and has anti-slip rubber feet.
It has drainage holes to ensure the water will flow freely and drain thoroughly. You can also adjust it to the height that best suits you, from 12.5 inches to 18.5 inches.
It does not require assembly. The seat is made from heavy-duty anodized aluminum. All you need to do is to slide the legs down or up, and push the pins to lock.
This round shower stool is lightweight and very stable. This chair with arms and back can hold weights up to 130 kg or 280 lbs.
It can fit even showers and small tubs with an anti-slip platform and broad base.

The seat is padded for comfort
It does not require tools when assembling
It is lightweight and easy to transport
The shower seat is stable
It has anti-slip rubber feet
Does not fold
It supports only 280 pounds
3. Carousel Sliding Shower Chair With Arms

The carousel Sliding Transfer Chair is an excellent choice for those who require not just a bathroom seat but other features as well.
This sliding shower chair with arms has a sturdy structure with a frame made of stainless steel and rotates at various angles.
It enables the user to have the best position by changing the height.
To assure the comfort and safety of the user anti-slip materials are used. The seat can accommodate a weight of up to 300 pounds.
For many, consider this shower seat as one of the best benches for seniors and handicapped individuals that offers long-term experience and impressive design.
As a whole, it is one of the highly-recommended medical-grade shower chairs with arms.

Stable and easy-to-assemble shower seat
Makes getting in and out of the bathtub easier
The package includes a free safe e-book
The padded seat, arms, and backrest has skin tear prevention
Has a safety belt to prevent falls
This shower seat is not the cheapest option, but it is worth it.
4. Vaunn Medical Shower Chair With Back And Arms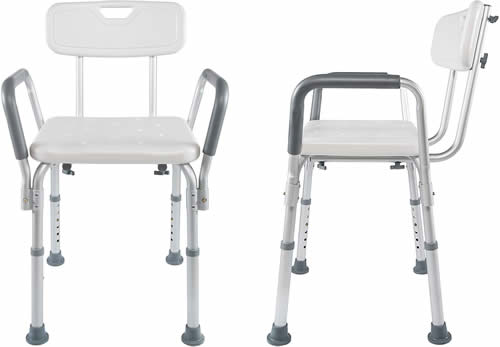 Vaunn Medical Tool-Free shower chair with back and arms is designed for seniors, and those with limited mobility or are handicapped.
It provides a relaxing shower experience that enables elderly and handicapped individuals to shower on their own.
This latest model of shower chair is made with a heavy-duty anodized aluminum frame with a weight capacity of 300 pounds. The frame is durable, rust-free, and lightweight.
It has unique angled legs with rubber tips that enable the user's weight to be distributed on a more substantial area which makes the shower chair very stable and safe.
This shower chair with back and arms is very comfortable with designs that provide comfort.
The seat has unique drainage holes that let water drain freely that reducing the risk of slippage. It also improves the overall seating experience.
It has removable back support and adjustable height to let users customize the chair based on their preferences. Easy to assemble and use.
I wish the seat was padded, but that can simply be solved by buying one of these shower chair cushions.

Easy to assemble and use
Adjustable height
Removable backrest
Rust-free and lightweight
Unique drainage holes to let water drain effectively
The chair is a bit large.
5. Medline Shower Chair With Arms And Backrest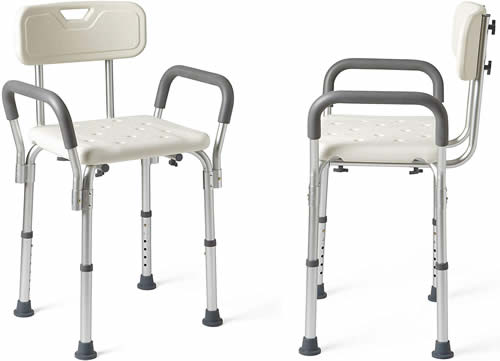 This shower chair with arms and a backrest can be placed in your shower or bathtub. The weight capacity of the Medline Shower Chair is 350 pounds.
A bit higher than other shower chair seats. The backrest is designed for users who are looking for some added support.
The padded armrests are best for patients who require more support when sitting and getting off the chair. It also has padded hand grips for comfort and reduces slippage.
The legs of this chair with arms and backrest are height adjustable with a push of a button for a perfect fit. The seat has non-slip, rubber feet to prevent slipping.
It is easy to assemble. Just follow the instruction manual for directions on setting it up.

Easy to assemble
Adjustable height
Removable backrest
It can support a higher weight than others
With non-slip rubber feet to prevent slipping
6. MedMobile Heavy Duty Bath Seat With Arms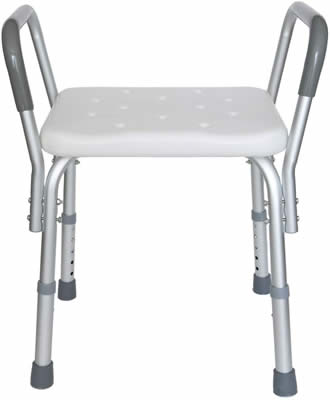 The MedMobile Heavy Duty Bath Seat with Arms is recommended for the elderly and those who have an injury and have difficulty walking.
The polyethylene seat is 15.5 inches wide that fits most standard tubs or showers. Adjusting the height is very easy with just a push of the buttons on the legs. You can change it from 16.5 inches to 19.5 inches.
This chair is a heavy-duty bath seat with arms. The legs are made of rust-free and durable legs with non-slip rubber feet that will keep one from slipping while taking a bath. It can hold a weight of up to 250 pounds.
It is easy to assemble since it does not require any tools.

Easy to assembly
Adjustable height that will fit the users
This bat seat with arms has durable and rust-free legs
With wide polyethylene seat
It can hold only 250 pounds.
7. NOVA Bath & Shower Seat with Arms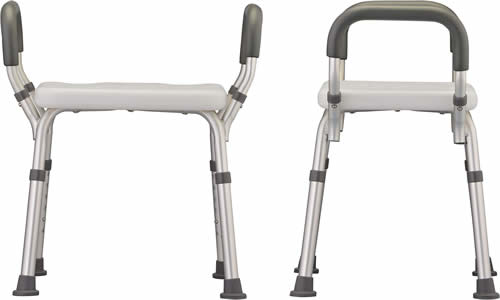 This Nova Shower seat with arms is made of waterproof materials with padded armrests and backrests to ensure there is no slipping that will happen.
The frame has lightweight aluminum with plastic caps feet to prevent it from moving.
Despite having a lightweight structure, this shower seat with arms has a sturdy frame that makes it very durable as compared to other shower seats. It is one of the most recommended shower seats today.
It can hold weights up to 275 pounds weight limit. This shower chair has a durable and strong frame despite being lightweight in structure.
As compared to other products this is sturdier than any other shower seats you can find around.
Its padded arms are very comfortable and support the user when standing and sitting while in the shower. This feature will help the user to keep his balance and avoid accidental trips or falls.

Easy and fast to assemble
Padded arms for a comfortable support
Adjustable legs to fit your height
Lightweight but with a sturdy frame
It can accommodate up to 275 pounds only.
8. Carex Extra Wide Shower Chair With Arms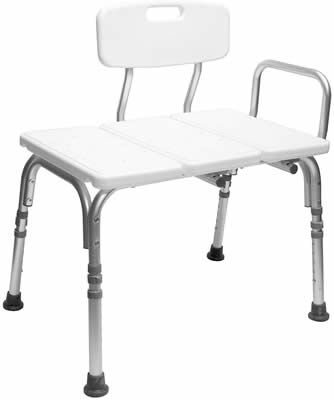 This extra wide shower chair with arms features an adjustable seat height so leveling the bath bench to the best height that will fit the user is easier.
No tools are needed. The bath seat is easy to assemble and disassembles. It makes storing and transporting it easy.
The Carex extra wide shower and bath chair with arms is compact but can hold up to 300 pounds. It has oversized slip-resistant tips for better stability.
This shower bench is very versatile, and it can be used as a tub transfer bench or an extra-wide shower chair.
This shower transfer bench has a reversible seatback for right or left-handed entry. Compact and sturdy, easy to use, and safe.

Very comfortable as you can sit comfortably
Easy to use and assemble
Adjustable height to fit the user
Reversible seat back for right or left-handed entry
Compact and easy to transport
Without drainage holes, so water can flow freely.
9. Platinum Health Swivel Shower Chair With Arms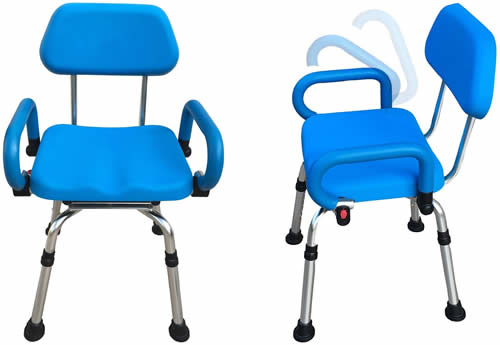 This revolutionary swivel shower chair with arms is the best option for user that needs help getting in and out of a shower or tub. It has an integrated swivel system that allows for fast and easy pivoting of a user.
To access the chair simply raise the pivoting armrest or you can sit on it directly. You can now swivel yourself to a comfortable position in the shower or bathtub. It has adjustable legs and a narrow base.
You can use this swivel shower and bath chair with arms in almost any shower setting, including the ordinary tub. It can accommodate up to 265 pounds. This swivel chair has suction base grips and aluminum construction.

Impressive design
With adjustable legs
Very comfortable
Backrest and padded seat are warm to touch
Easy to clean
The seating area is small
A bit slippery
10. Platinum Health Adjustable Shower Chair With Arms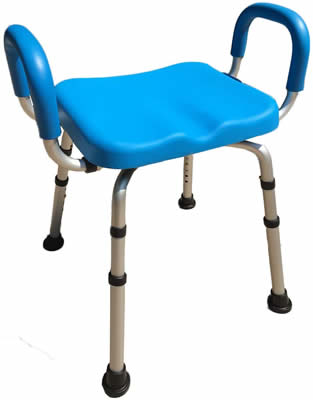 Platinum Health Independence adjustable shower chair with arms provides comfort, reduces the risk of skin tears and infections, and hot to-the-touch seat. It has armrests that can help in preventing falls and help with exiting and entering.
It is available in blue/silver design. The main components are blue so the user can see it better, unlike old-style gray/white chairs blending well in the background.
Very helpful for the visually impaired and for those with dementia to prevent slips, falls, and trips.
Its aluminum frame will never rust; the company offers a lifetime warranty. Adjustable height to fit the user perfectly. This adjustable chair with arms can accommodate up to 310 pounds.

It can be used not only in the bath or shower room but anywhere in the house
Easy to use and assemble
Designed for the visually impaired and those with dementia
Padded with armrest for comfort
With lifetime guarantee
How to Properly Use Shower Chair With Handles
You don't just buy a shower chair with handles without knowing how to use it properly. The potential injuries can be reduced significantly if you know the proper way of using them.
If you don't feel safe while taking a bath and showering on your own, a shower chair is an excellent companion in the bathroom. Below are simple steps on how to use the shower chair with handles and feel comfortable and safe:
First, check if the height of the chair is convenient for you. If not adjust it so you can stand up and sit comfortably. This feature is essential if you are having back pain.
The legs should be level and in contact with the floor. If not, it could lead to an accidental flip of the chair.
Make sure there is no obstruction in the area to prevent accidents or make them fall.
It would help to maintain safety by using a slip-resistant mat underneath the chair and your feet.
Make sure you are sitting on the right part of the chair. Your weight should be distributed equally. Do not sit on the edges of the chair.
Incorporate these tips every time you go to the shower or bathroom, and you need to use a shower chair with handles.
Did You Know? 7 Surprising Bathroom Safety Facts
Around 2/3 of falls occur while taking a bath or showering. And most of the victims are the elderly and mostly women.
Towel bars are meant to hold a towel. However, around 70% of older adults use this to help them keep steady when getting out of the shower.
Injuries that involve getting in and out of the shower or tub occurred among all ages, which leads to the conclusion that grabbing bars both inside and outside the shower or tub can help prevent injuries to all members of the family.
If you have a shower tub rather than a walk-in shower, make sure that you step on the tub's high sides always increases the risk that you will lose your balance.
According to the CDC, 1.6 million older adults were brought to the emergency room due to fall-related incidents that occur in the shower or bathroom. Those who are 65 years old and above may die within six months after the fall and break a hip.
If you think having a low toilet set is safe, you are wrong. The elderly have a hard time sitting and getting up from the low toilet, which sometimes causes balance and falls. Make sure to have a toilet seat that is tall enough for the elderly.
Make sure that your bathroom necessities like soap, shampoo, towels, and others are easy to reach, particularly for the elderly and those who are having a hard time standing up.
Frequently Asked Questions
Here are answers to some of the most frequently asked questions about shower chairs with arms.
How much should a shower chair with handles cost you?
Some people think that if they pay more, they always get the best product. This fact is not true all the time. There are lots of good chairs that do not cost that much. Some good chairs will cost you only $40 to $100.
Which shower chair brands do you suggest?
There are only a few good brands in the market today, and most of them are included in the list. To name the three best shower chair brands for me that would be Medokare, Platinum Health, and Essential Medical.
Do I need to assemble them or it is pre-assembled?
It varies from chair to chair. Some shower chairs come assembled, and others are not. Those that need to be assembled do not require tools. Most of the time, you only need a few screws.
Where to buy a good shower chair with armrests?
You can purchase them in CVS and similar outlets, but it is also best to buy them online. It is more convenient. You can also find great deals and discounts. Comparing the different products is easy if you buy them online. Reviews and other important information about shower chairs are readily available on the net. Just make sure to purchase it from a trusted and reliable site like Amazon.
Conclusion
There are things that the elderly and handicapped people will not be able to do, but not taking a bath or showering. With the help of a shower chair with arms, they can perform this activity safely and independently.
Make sure that you purchase a good-quality shower chair to avoid accidents like the accidental flip of the chair, slipping on the chair, and others. Consider the ten products we have listed in this post, and you will surely not go wrong.
If you find this post interesting and worth reading, feel free to share this with others, or you can comment below. You can ask questions or share your ideas with us.