In this article, you will learn about 10 easy ways to improve bathroom safety for the elderly. You or anyone else in your family will be able to enjoy baths without the fear of falling or slipping. With this information, you will also be able to help others do the same.
Bathrooms should be as enjoyable as possible, yet a big part of elderly injuries occurs there. That's why I wrote this article to show you 10 simple tips on how to improve bathroom safety for the elderly. It doesn't take much, but it will bring peace to your mind.
Slips and falls are the main causes of bathroom injuries, especially while entering or leaving the bath or a shower. I'll focus on how to set up your bathroom and what equipment to get to prevent these accidents.
Besides preventing injuries, these tips will return privacy and independence to the user since they won't need help as much.
Senior Bathroom Safety Statistics: Did You Know?
If you live in the US, the average cost of a fall injury is $19,440, and almost 4 Billion dollars get spent on falls every year.
More than 95% of hip fractures are caused by falls and just 25% of these patients will make full recovery in the future.
Another scary fact is that 66% of bathroom injuries happen when you are in the tub or shower. Surprisingly, up to 70% of seniors use shower stalls with unsafe features.
Approximately 370 people get injured in a bathroom every day in the US, making it the 2nd most dangerous room in the home.
Reports show that nearly 50% of elders that fell lose confidence and start to avoid activities.
10 Senior Safety Products You Won't Want to Miss
If you want to make sure that your bathroom is safe, check out the infographic or read the full article below.
Feel free to share the infographic on your website or social media if you want to help others too. You can find embed instructions under the infographic.

Now that you've skimmed through the infographic, you can read a bit more about every piece. Everyone will be able to build enough confidence to enjoy baths and showers once again. Your mood will change immensely.
I've done a lot of research and came up with a list of the top 10 main bathroom safety equipment that any senior can use. Daily bathroom routines don't have to be chores anymore.
Bathtub Safety Grab Bar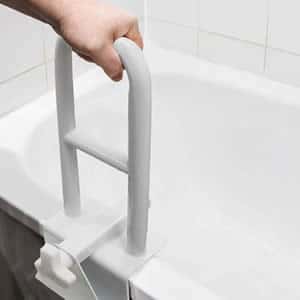 Entering and leaving a bathtub is hard enough for young and healthy people, not to mention the elderly.
The bathtub safety grab bar is quite a simple solution, but it will provide great support in your baths.
It will fit almost any bathtub, you just have to tighten it to the side of the tub and that's it. No tools are required and you can remove them when not in use too.
Bathroom Safety Handrail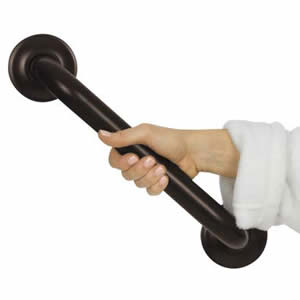 Besides a bathtub bar, a safety handrail or grab bar is another great way to prevent slips and falls.
You can hold on to extra balance when showering or even grab onto them if you start falling.
A bathroom safety handrail can be mounted with either screws or suction cups.
Suction cups are more practical but screwed-in handrails provide more safety.
Pole Grab Bar
A pole grab bar is getting more and more popular with the elderly.
You can use it to get out of a bathtub safely, but also to get up from the toilet, bed or anywhere else you need it.
An average pole grab bar can hold up to 300 pounds and can be adjusted to ceilings of 7, 8, or 9 feet high.
Installation is easy and it can always be moved as it doesn't use screws.
Bathtub Transfer Bench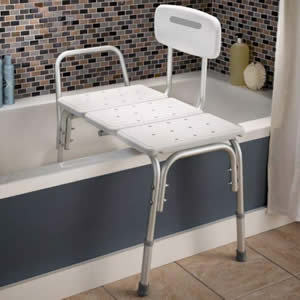 If a bathtub grab bar isn't enough, getting a bathtub transfer bench is an excellent alternative.
They will be invaluable for anyone that's having trouble getting into the tub on their own.
You or the person you're caring for can just sit on one side of the bench and slide into the bathtub.
This way you also get a comfortable seat when bathing or showering.
Shower Stools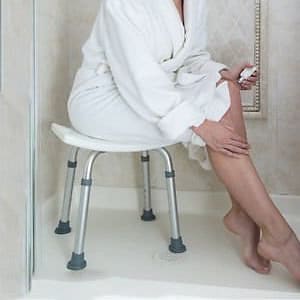 If you don't have a built-in bench in your shower or bathtub, shower stools are great for safe bathing.
Use them in combination with handrails to make your bathroom time as comfortable as possible.
Make sure that the chairs have rubber tips on the legs to prevent slipping and sliding.
Shower chairs are not only used by seniors, but many younger people also use them due to their practicality.
If you want to find out more about them, you can read our best teak shower stool article here.
Toilet Safety Frame Rails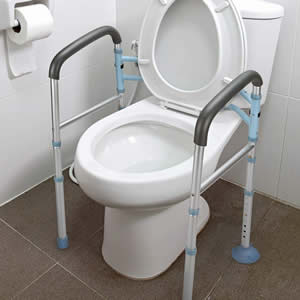 Since toilets are so low, the elderly can struggle a lot while standing up or sitting down.
Safety frame rails are a great, non-invasive way to help you with your toilet time.
They are installed at the back of the seat and go all the way to the floor, providing you with a neat handrest.
The height can be adjusted, going from 26 to 31 inches.
Elevated Toilet Seat With Arms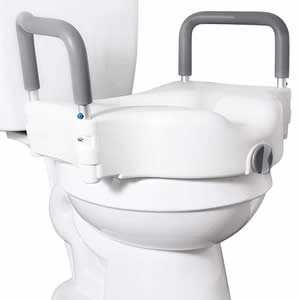 Another alternative to frame rails is an elevated toilet seat with arms.
It helps similarly as you don't have to lower down to sit on the toilet.
It's widely used by people with back pain, but you can use it if you have joint, hip, or knee pain or even struggle with too much weight.
Non-Slip Bath Mats for the Elderly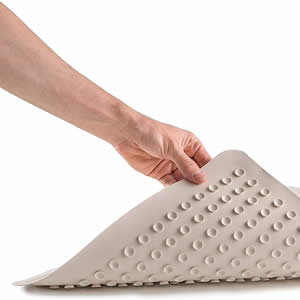 All that water, steam, and soap can make the bathroom floor or a bathtub very slippery.
To prevent awkward slips, you can use bathroom mats to put them next to the bathtub or a shower.
You can also put mats inside a bathtub, but they need to be made of rubber or silicon, otherwise, they will get destroyed.
Non-slip mats are a great idea regardless of your age.
Non-Slip Bathtub Coating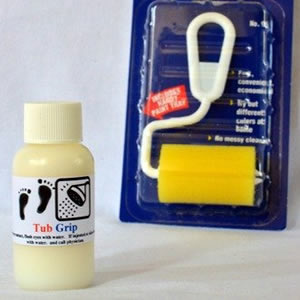 There are a lot of people that don't like the look of bathroom mats.
They also can get dirty quickly and be a struggle to clean too.
That's why a lot of people use non-slip bathtub coating nowadays.
Just cover the inside of your bathtub with this coating and you will get a good grip without changing the look of your bathroom.
Walk-in Bathtub for Seniors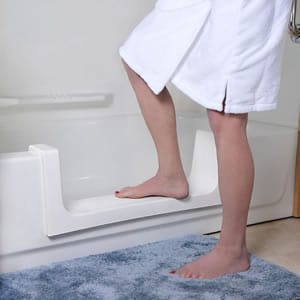 These kinds of bathtubs are great for the elderly, but they are more expensive to incorporate.
If you don't want a transfer bench or chair in your tub, a walk-in bathtub for seniors is perfect for you.
They have small doors that help you walk in so you don't have to climb.
You also have a built-in seat, so you can bathe safely and comfortably.
Bathroom Safety Tips: Prevention is Key
Here's a list of 10 short tips that you can take as a precaution and prevent bathroom injuries.
Prevent the slips in the tub by installing non-slip tiles, and mats or applying a coating.
Don't rush inside the shower or a bath, being late is better than being hurt.
Make sure your bathroom is well-illuminated during the night.
Keep your bathroom clean as much as possible. The soapy residue is a recipe for disaster.
After cleaning your bathroom or yourself, wipe down the floor to keep it dry.
Get rid of your throw rugs or at least make sure that they have a non-slip underside.
Installing bars and grabs will help you keep your balance and prevent awkward falls.
Elevate your toilet seat if you struggle to get up. It doesn't seem as much but means a lot.
Invest in an adjustable shower head to minimize movement.
Place a shower seat or a transfer bench inside your bathtub or your shower.
Now That Bathroom Safety For Elderly is Improved…
We take our mobility for granted and as we age everything gets harder. A simple bath or a shower can cause serious injuries if you are not careful.
Hopefully, this bathroom safety for the elderly tips can help you enjoy your bathroom time once again.